Akirin2 Antibody
Catalog# :4803
The highly conserved, nuclear-localized Akirin1 and Akirin2 proteins critically regulate the transcription of NF-kappaB-dependent genes and are required for defense against Gram-negative bacteria in the immune deficiency and NF-kappaB pathways. Akirin1 is dispensable in the mouse, and neither knockout mice nor cells derived from them have obvious distinctive phenotypes. In contrast, Akirin2 is required for development in the mouse and knockout of both Akirin homologs in mice show that Akirin2 is required downstream of toll-like receptor (TLR), TNF-alpha and IL-1beta signaling, and for the production of IL-6. Akirin2 is functionally closer to the single gene in Drosophila, as the homozygous null D. melanogaster Akirin mutants show a similar, mid-to-early embryonic death.
Additional Names : Akirin2 (IN1), Chromosome 6 Open Reading Frame 166, C6orf166, FBI1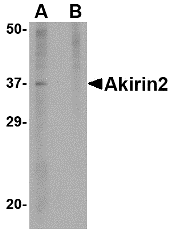 Description
Left:
Western blot analysis of Akirin2 in mouse brain tissue lysate with Akirin2 antibody at 1 µg/ml in (A) the absence and (B) the presence of blocking peptide.
Source :Akirin2 antibody was raised against a 15 amino acid peptide near the center of the human Akirin2.
Purification : Affinity chromatography purified via peptide column
Clonality and Clone : This is a polyclonal antibody.
Host : Akirin2 antibody was raised in rabbit.
Please use anti-rabbit secondary antibodies.
Application : Akirin2 antibody can be used for detection of Akirin2 by Western blot at 1 – 2 µg/ml.
Tested Application(s) : E, WB
Buffer : Antibody is supplied in PBS containing 0.02% sodium azide.
Blocking Peptide :Cat.No. 4803P - Akirin2 Peptide
Long-Term Storage : Akirin2 antibody can be stored at 4ºC, stable for one year. As with all antibodies care should be taken to avoid repeated freeze thaw cycles. Antibodies should not be exposed to prolonged high temperatures.
Positive Control :
1. Cat. No. 1403 - Mouse Brain Tissue Lysate
Species Reactivity : H, M
GI Number : 119568963
Accession Number : EAW48578
Short Description : (IN1) an innate immunity-related transcription factor
References
1. Goto A, Matsushita K, Gesellchen V, et al. Akirins are highly conserved nuclear proteins required for NF-kappaB-dependent gene expression in drosophila and mice. Nat. Immunol. 2008; 9:97-104.
2. Beutler B and Moresco EM. Akirins versus infection. Nat. Immunol. 2008; 9:7-9.
3. Sutterwala FS and Flavell RA. Immunology: cascade into clarity. Nature 2008; 451:254-5.
4. Tanji T and Ip YT. Regulators of the Toll and Imd pathways in the Drosophila innate immune response. Trends Immunol. 2005; 26:193-8.