Siglec11 Antibody
Catalog# :5151
Siglecs are sialic acid-binding lectins of the immunoglobulin superfamily that are mainly expressed in cells of the hematopoietic system. Siglec11 is unlike other siglecs in that it binds specifically to a2-8-linked sialic acids and is not found in peripheral blood leukocytes but instead on macrophages of various tissues. Siglec11 is highly homologous to Siglec10 over their extracellular domain but not over their cytoplasmic domain, suggesting that Siglec11 arose through gene duplication followed by a recombination event involving another ancestral siglec gene. Following treatment of Siglec11-transfected cells with pervanadate, Siglec11 becomes tyrosine-phosphorylated and strongly associates with SHP-1 and SHP-2. At least five isoforms of Siglec11 are known to exist. Siglec11

antibody

will not cross-react with Siglec10. Despite its predicted size, Siglec11 migrates at a higher than expected molecular weight in SDS-PAGE.
Additional Names : Siglec11, Sialic acid binding Ig-like lectin 11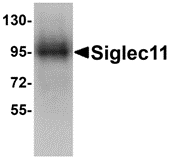 Description
Left:
Western blot analysis of Siglec11 in HepG2 cell lysate with Siglec11 antibody at 1 µg/ml.
Below:
Immunohistochemistry of Siglec11 in human liver tissue with Siglec11

antibody

at 5 μg/ml.
Other Product Images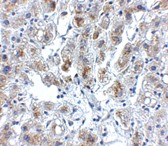 Source :Siglec11 antibody was raised against an 18

amino acid peptide

from near the carboxy terminus of human Siglec11.
Purification : Affinity chromatography purified via

peptide

column
Clonality and Clone : This is a polyclonal antibody.
Host : Siglec11 antibody was raised in rabbit.
Please use anti-rabbit secondary antibodies.
Application : Siglec11 antibody can be used for detection of Siglec11 by Western blot at 0.5 - 1 µg/ml.
Tested Application(s) : E, WB
Buffer : Antibody is supplied in PBS containing 0.02% sodium azide.
Blocking Peptide :Cat.No. 5151P - Siglec11 Peptide
Long-Term Storage : Siglec11 antibody can be stored at 4ºC, stable for one year. As with all antibodies care should be taken to avoid repeated freeze thaw cycles. Antibodies should not be exposed to prolonged high temperatures.
Positive Control :
1. Cat. No. 1211 - HepG2 Cell Lysate
Species Reactivity : H
GI Number : 205830470
Accession Number : NP_443116
Short Description : Sialic acid binding Ig-like lectin 11
References
1. Crocker PR and Varki A. Siglecs, sialic acids, and innate immunity. Trends Immunol. 2001; 22:337-42.
2. Angata T, Kerr SC, Greaves DR, et al. Cloning and characterization of human siglec-11. A recently evolved signaling molecule that can interact with SHP-1 and SHP-2 and is expressed by tissue macrophages, including brain microglia. J. Biol. Chem. 2002; 27:24466-74.