IRF7 Antibody
Catalog# :3941
Interferons (IFNs) are involved in a multitude of immune interactions during viral infections and play a major role in both the induction and regulation of innate and adaptive antiviral mechanisms. During infection, host-virus interactions signal downstream molecules such as transcription factors such as IFN regulatory factor-3 (IRF3) which can act to stimulate transcription of IFN-a/b genes. IRF7 has been shown to play a role in the transcriptional activation of virus-inducible cellular genes, including interferon beta chain genes. IRF7 play a major role in the innate immune pathway, interacting with the Toll-like receptor (TLR) adaptor proteins MyD88 and Tirp/TRAM and functioning as an intermediate TLR4 and TLR9 signaling. There are at least four differentially spliced isoforms of IRF7, although their function has not been clearly established.
Additional Names : IRF7 (CT), Interferon regulatory factor 7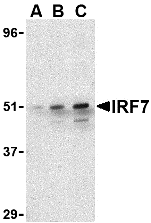 Description
Left:
Western blot analysis of IRF7 in 293 whole cell lysate with IRF7

antibody

at (A) 0.5 and (B) 1 µg/ml.
Below:
Immunohistochemistry of in mouse spleen tissue with IRF7 antibody at 5 µg/ml.
Other Product Images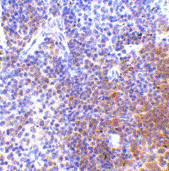 Source :IRF7 antibody was raised against a

peptide

corresponding to 14 amino acids near the carboxy-terminus of human IRF7 .
Purification : Affinity chromatography purified via

peptide

column
Clonality and Clone : This is a polyclonal

antibody

.
Host : IRF7 antibody was raised in rabbit.
Please use anti-rabbit secondary antibodies.
Application : IRF7 antibody can be used for detection of IRF7 by Western blot at 1 - 2 µg/ml.
Tested Application(s) : E, WB, IHC
Buffer : Antibody is supplied in PBS containing 0.02% sodium azide.
Blocking Peptide :Cat.No. 3941P - IRF7 Peptide
Long-Term Storage : IRF7

antibody

can be stored at 4ºC, stable for one year. As with all antibodies care should be taken to avoid repeated freeze thaw cycles. Antibodies should not be exposed to prolonged high temperatures.
Positive Control :
1. Cat. No. 1210 - 293 Cell Lysate
2. Cat. No. 1406 - Mouse Spleen Tissue Lysate
Species Reactivity : H, M, R
GI Number : 116242593
Accession Number : Q92985
Short Description : (CT) a TRAF-interacting protein
References
1. Malmgaard L. Induction and regulation of IFNs during viral infections. J. Interferon & Cyto. Res. 2004; 24:439-54.
2. Sato M, Suemori H, Hata N, et al. Distinct and essential roles of transcription factors IRF-3 and IRF-7 in response to viruses for IFN-alpha/beta gene induction. Immunity 2000; 13:539-48.
3. Fitzgerald KA, Rowe DC, Barnes BJ, et al. LPS-TLR4 signaling to IRF-3/7 and NF-kappaB involves the toll adaptors TRAM and TRIF. J. Exp. Med. 2003; 198:1043-55.
4. Honda K, Yanai H, Mizutani T, et al. Role of a transductional-transcriptional processor complex involving MyD88 and IRF-7 in Toll-like receptor signaling. Proc. Natl. Acad. Sci. USA 2004; 101:15416-21.