Swine H1N1 Nonstructural Protein 1 Antibody
Catalog# :5359
Influenza A virus is a major public health threat, killing more than 30,000 people per year in the USA. In early 2009, a novel swine-origin influenza A (H1N1) virus (S-OIV) was identified in specimens obtained from patients in Mexico and the United States. One of the less studied proteins encoded by, but not incorporated in, the influenza virus is the nonstructural protein (NS) 1. NS1 counters cellular antiviral activities and acts as a virulence factor. It can bind to double-stranded RNA and sequester it from 2'-5' OAS, preventing the activation of the RNAse L, which normally acts to degrade RNA and prevent virus replication. NS1 also binds to and inhibits the anti-viral protein kinase PKR. This antibody is specific for the Swine-Origin H1N1 influenza NS1 and will not recognize the corresponding NS1 sequence from the seasonal H1N1 influenza (A/South Australia/51/2005 (H1N1)).
Additional Names : Swine-Origin Influenza A (H1N1) Nonstructural Protein 1, NS1, S-OIV NS1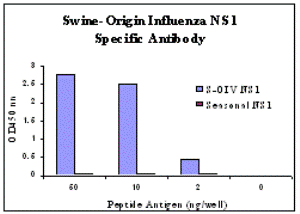 Description
Left:
ELISA results using Swine H1N1 Nonstructural Protein 1 antibody at 1 µg/ml and the blocking and corresponding peptides at 60, 10, 2 and 0 ng/ml.
Source :NS1 antibody was raised against a synthetic peptide from the Swine-Origin Influenza NS1.
Purification : Affinity chromatography purified via peptide column
Clonality and Clone : This is a polyclonal antibody.
Host : Swine H1N1 Nonstructural Protein 1 antibody was raised in rabbit.
Please use anti-rabbit secondary antibodies.
Application : NS1 antibody can be used for the detection of the NS1 protein from the H1N1 strain of Swine-Origin Influenza A in ELISA.
Tested Application(s) : E
Buffer : Antibody is supplied in PBS containing 0.02% sodium azide.
Blocking Peptide :Cat.No. 5359P - Swine H1N1 Nonstructural Protein 1 Peptide
Long-Term Storage : Swine H1N1 Nonstructural Protein 1 antibody can be stored at 4ºC, stable for one year. As with all antibodies care should be taken to avoid repeated freeze thaw cycles. Antibodies should not be exposed to prolonged high temperatures.
Species Reactivity : V
GI Number : 227809839
Accession Number : ACP41110
Short Description : Swine-origin Influenza Nonstructural Protein 1
References
1. Thompson WW, Shay DK, Weintraub, et al. Mortality associated with influenza and respiratory syncytial virus in the United States. JAMA 2003; 289:179-186.
2. Novel Swine-Origin Influenza A (H1N1) Virus Investigation Team, Dawood FS, Jain S, et al. Emergence of a novel swine-origin influenza A (H1N1) virus in humans. N. Engl. J. Med. 2009; 360:2605-15.
3. Krug RM, Yuan W, Noah D, et al. Intracellular warfare between human influenza viruses and human cells: the role of the viral NS1 protein. Virology 2003; 309:181-9.
4. Min J-Y and Krug RM. The primary function of RNA binding by the influenza A virus NS1 protein is infected cells: inhibiting the 2'-5' oligo (A) synthase/RNase L pathway. Proc. Natl. Acad. Sci. USA 2006; 103:7100-5.