CD81 Antibody
Catalog# :5195
CD81 is a member of the transmembrane 4 superfamily, also known as the tetraspanin family, a group of cell-surface proteins that are characterized by the presence of four hydrophobic domains and mediate signal transduction events that play a role in the regulation of cell development, activation, growth and motility. CD81 is a cell surface glycoprotein that associates with integrins and appears to promote muscle cell fusion and support myotube maintenance. Along with SCARB1, LDL-R, and CLDN1, CD81 has been reported to be an entry factor for the Hepatitis C virus. Finally, recent evidence indicates that the CD81 gene is localized in a tumor-suppressor gene region and is thus a candidate gene for malignancies.
Additional Names : CD81, S5.7, TAPA1, TSPAN28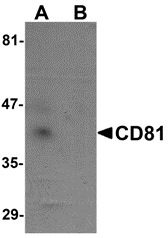 Description
Left: Western blot analysis of CD81 in human lung tissue lysate with CD81 antibody at 1 µg/ml in (A) the absence and (B) the presence of blocking petide.
Source :CD81 antibody was raised against a 20

amino acid peptide

near the amino terminus of human CD81.
Purification : Affinity chromatography purified via peptide column
Clonality and Clone : This is a polyclonal antibody.
Host : CD81 antibody was raised in rabbit.
Application : CD81 antibody can be used for detection of CD81 by Western blot at 1 - 2 µg/ml.
Tested Application(s) : E, WB
Buffer : Antibody is supplied in PBS containing 0.02% sodium azide.
Blocking Peptide :Cat.No. 5195P - CD81 Peptide
Long-Term Storage : CD81 antibody can be stored at 4ºC, stable for one year. As with all antibodies care should be taken to avoid repeated freeze thaw cycles. Antibodies should not be exposed to prolonged high temperatures.
Positive Control :
1. Cat. No. 1302 - Human Lung Tissue Lysate
Species Reactivity : H, M, R
GI Number : 4757944
Accession Number : NP_004347
Short Description : Tetraspanin 28
References
1. Oren R, Takahashi S, Doss C, et al. TAPA-1, the target of an antiproliferative

antibody

, defines a new family of transmembrane proteins. Mol. Cell Biol. 1990; 10:4007-15.
2. Charrin S, le Naour F, Silvie O, et al. Lateral organization of membrane proteins: tetraspanins spin their web. Biochem. J. 2009; 420:133-54.
3. Mannion BA, Berditchevski F, Kraeft SK, et al. Transmembrane-4 superfamily proteins CD81 (TAPA-1), CD82, CD63, and CD53 specifically associated with integrin alpha 4 beta 1 (CD49d/CD29). J. Immunol. 1996; 157:2039-47.
4. Tacvhibana I and Hemler ME. Role of transmembrane 4 superfamily (TM4SF) proteins CD9 and CD81 in muscle cell fusion and myotube maintenance. J. Cell Biol. 1999; 146:893-90