RP105 Antibody
Catalog# :3841
Toll-like receptors (TLRs) are evolutionarily conserved pattern-recognition molecules resembling the toll proteins that mediate antimicrobial responses in Drosophila. These proteins recognize different microbial products during infection and serve as an important link between the innate and adaptive immune responses.. The signaling of these TLRs is kept under tight control by the expression of endogenous inhibiting proteins. One such protein is RP105, a recently identified homolog to TLR4 that, with MD-1, interacts with and inhibits the TLR4/MD-2 signaling pathway. It has also been suggested that the RP105/MD-1 complex influences antibody production mediated by both TLR4/MD-2 and TLR2 receptor complexes. Despite its predicted molecular weight, RP105 often migrates at 95 – 105 kDa.
Additional Names : RP105 (CT), Radioprotective 105, Lymphocyte antigen 64, CD180 antigen precursor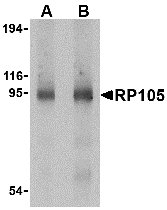 Description
Left:
Western blot analysis of RP105 in human spleen tissue lysate with RP105 antibody at (A) 0.5 and (B) 1 µg/ml.
Below:
Immunohistochemistry of RP105 in human spleen tissue withRP105 antibody at 10 µg/ml.
Other Product Images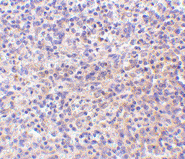 Source :RP105 antibody was raised against a 14

amino acid peptide

from near the carboxy terminus of human RP105.
Purification : Affinity chromatography purified via peptide column
Clonality and Clone : This is a polyclonal antibody.
Host : RP105 antibody was raised in rabbit.
Please use anti-rabbit secondary antibodies.
Application : RP105 antibody can be used for the detection of RP105 by Western blot at 0.5 – 1 µg/ml.
Tested Application(s) : E, WB, IHC
Buffer : Antibody is supplied in PBS containing 0.02% sodium azide.
Blocking Peptide :Cat.No. 3841P - RP105 Peptide
Long-Term Storage : RP105 antibody can be stored at 4ºC, stable for one year. As with all antibodies care should be taken to avoid repeated freeze thaw cycles. Antibodies should not be exposed to prolonged high temperatures.
Positive Control :
1. Cat. No. 1306 - Human Spleen Tissue Lysate
Species Reactivity : H, M
GI Number : 1843411
Accession Number : BAA12019
Short Description : (CT) Toll-like receptor, TLR2, TLR4, MD-1, MD-2
References
1. Takeda K, Kaisho T, and Akira S. Toll-like receptors. Annu. Rev. Immunol. 2003; 21:335-76.
2. Janeway CA Jr. and Medzhitov R. Innate immune recognition. Annu. Rev. Immunol. 2002; 20:197-216.
3. Divanovic S, Trompette A, Atabani SF, et al. Inhibition of TLR-4/MD-2 signaling by RP105/MD-1. J. Endotoxin Res. 2005; 11:363-8.
4. Nagai Y, Kobayashi T, Motoi Y, et al. The radioprotective 105/MD-1 complex links TLR2 and TLR4/MD-2 in antibody response to microbial membranes. J. Immunol. 2005; 174:7043-9.