Unc93b Antibody
Catalog# :4553
The endoplasmic reticulum (ER) protein Unc93b, a human homolog of the C. elegans Unc93 gene, was initially identified by a forward genetic screen using N-ethyl-N-nitrosourea where a histidine-to-arginine substitution in Unc93b caused defects in Toll-like receptor (TLR) 3, 7 and 9 signaling. Unlike Unc93a, another homolog of the C. elegans Unc93 gene whose function is unknown, Unc93b specifically interacts with TLR3, 7 and 9; the histidine-to-arginine point mutation used to identify Unc93b abolishes this interaction. Mice carrying this point mutation are highly susceptible to infection with a number of viruses, indicating that Unc93b plays an important role in innate immunity. Multiple isoforms of Unc93a are known to exist. This antibody will not cross-react with Unc93a.
Additional Names : Unc93b, Unc93b1, homolog of C. elegans Unc93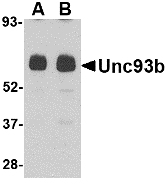 Description
Left:
Western blot analysis of Unc93b in human heart tissue lysate with Unc93b antibody at (A) 0.5 and (B) 1 µg/ml.
Below:
Immunohistochemistry of Unc93b in human heart with Unc93b antibody at 2.5 µg/ml.
Other Product Images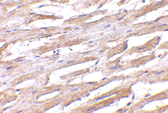 Source :Unc93b antibody was raised against a 19 amino acid peptide from near the amino terminus of human Unc93b.
Purification : Affinity chromatography purified via peptide column
Clonality and Clone : This is a polyclonal antibody.
Host : Unc93b antibody was raised in rabbit.
Please use anti-rabbit secondary antibodies.
Application : Unc93b antibody can be used for the detection of Unc93b by Western blot at 0.5 – 1 µg/ml.
Tested Application(s) : E, WB, IHC
Buffer : Antibody is supplied in PBS containing 0.02% sodium azide.
Blocking Peptide :Cat.No. 4553P - Unc93b Peptide
Long-Term Storage : Unc93b antibody can be stored at 4ºC, stable for one year. As with all antibodies care should be taken to avoid repeated freeze thaw cycles. Antibodies should not be exposed to prolonged high temperatures.
Positive Control :
1. Cat. No. 1301 - Human Heart Tissue Lysate
Species Reactivity : H, M, R
GI Number : 116284350
Accession Number : AAH33623
Short Description : homolog of C. elegans UNC93
References
1. Tabeta K, Hoebe K, Janssen EM, et al. The Unc93b1 mutation 3d disrupts exogenous antigen presentation and signaling via Toll-like receptors 3, 7, and 9. Nat. Immunol. 2006; 7:156-64.
2. Liu Y, Dodds P, Emilion G, et al. The human homolog of unc-93 maps to chromosome 6q27 – characterisation and analysis in sporadic epithelial ovarian cancer. BioMed Central Genetics 2002; 3:20.
3. Brinkmann MM, Spooner E, Hoebe K, et al. The interaction between the ER membrane protein UNC93B and TLR3, 7, and 9 is crucial for TLR signaling. J. Cell Biol. 2007; 177:265-75.