OTUD5 Antibody
Catalog# :4811
OTUD5 is a member of the OTU (ovarian tumor) domain-containing cysteine protease superfamily. The OTU domain confers deubiquitinase activity and OTUD5 has been shown to suppress the type I interferon (IFN-I)-dependent innate immune response by cleaving the polyubiquitin chain from TRAF3, an essential type I interferon adaptor protein. Cleavage results in disassociation of TRAF3 from a downstream signaling complex containing TBK1 and the disruption of the IFN-I signaling cascade, indicating that OTUD5 acts as a negative regulator of innate immune responses. It has been suggested that by suppressing IFN-I production, OTUD5 may function to inhibit the emergence of certain autoimmune disorders such as systemic lupus erythematosus. Multiple isoforms of OTUD5 are known to exist.
Additional Names : OTUD5, OTU domain-containing protein 5, Deubiquitinating enzyme A, DUBA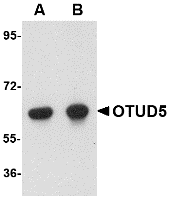 Description
Left: Western blot analysis of OTUD5 in human kidney lysate with OTUD5

antibody

at (A) 1 and (B) 2 µg/ml. Below: Immunohistochemistry of OTUD5 in mouse kidney tissue with OTUD5 antibody at 2.5 µg/ml.
Source :OTUD5 antibody was raised against a 13

amino acid peptide

near the carboxy terminus of the human OTUD5.
Purification : Affinity chromatography purified via

peptide

column
Clonality and Clone : This is a polyclonal antibody.
Host : OTUD5 antibody was raised in rabbit.
Application : OTUD5

antibody

can be used for detection of OTUD5 by Western blot at 1 – 2 µg/ml.
Tested Application(s) : E, WB, IHC
Buffer : Antibody is supplied in PBS containing 0.02% sodium azide.
Blocking Peptide :Cat.No. 4811P - OTUD5 Peptide
Long-Term Storage : OTUD5 antibody can be stored at 4ºC, stable for one year. As with all antibodies care should be taken to avoid repeated freeze thaw cycles. Antibodies should not be exposed to prolonged high temperatures.
Positive Control :
1. Cat. No. 1305 - Human Kidney Tissue Lysate
Species Reactivity : H, M, R
GI Number : 119571108
Accession Number : EAW50723
Short Description : OTU domain-containing protein 5
References
1. Kayagi N, Phung Q, Chan S, et al. DUBA: A deubiquitinase that regultes type I interferon production. Science 2007; 318:1628-32.
2. Borodovsky A, Ovaa H, Kolli N, et al. Chemistry-based functional genomics reveals novel members of the deubiquitinating enzyme family. Chem. Biol. 2002; 10:1149-59.