MARCH8 Antibody
Catalog# :4885
MARCH8 (c-MIR) is a novel E3 ubiquitin ligase designated as the modulator of immune recognition (MIR) family, whose catalytic domain is a variant RING domain (RING-CH domain). MARCH8 was found as a functional and structural homolog of KSHV MIR1 and MIR2. MARCH8 targets B7-2 to lysosomal degradation and down-regulates the B7-2 surface expression through ubiquitination of its cytoplasmic tail. Furthermore, MARCH8 has been shown to down-regulate the expression of transferrin receptor and Fas, an important molecule for the induction of apoptosis. MARCH8 is the first example of an E3 ubiquitin ligase that is capable of inhibiting MHC II expression. Recent findings suggest that MARCH8 may regulate immune responses by promoting ubiquitination of MHC-II and CD86, leading to their subsequent endocytosis and lysosomal degradation.
Additional Names : MARCH8, Membrane-associated ring finger 8, E3 ubiquitin-protein ligase MARCH8, RING finger protein 178, c-MIR, Cellular modulator of immune recognition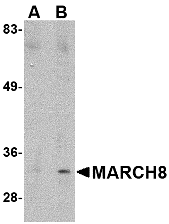 Description
Left:
Western blot analysis of MARCH8 in HeLa cell lysate with MARCH8 antibody at (A) 0.5 µg/ml and (B) 1 μg/ml.
Below:
Immunocytochemistry of MARCH8 in HeLa cells with MARCH8 antibody at 2.5 μg/ml.
Other Product Images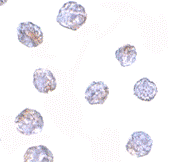 Source :MARCH8 antibody was raised against a 17 amino acid peptide from near the carboxy terminus of human MARCH8.
Purification : Affinity chromatography purified via peptide column
Clonality and Clone : This is a polyclonal antibody.
Host : MARCH8 antibody was raised in rabbit.
Please use anti-rabbit secondary antibodies.
Application : MARCH8 antibody can be used for detection of MARCH8 by Western blot at 0.5 – 1 µg/ml.
Tested Application(s) : E, WB, ICC
Buffer : Antibody is supplied in PBS containing 0.02% sodium azide.
Blocking Peptide :Cat.No. 4885P - MARCH8 Peptide
Long-Term Storage : MARCH8 antibody can be stored at 4ºC, stable for one year. As with all antibodies care should be taken to avoid repeated freeze thaw cycles. Antibodies should not be exposed to prolonged high temperatures.
Positive Control :
1. Cat. No. 1201 - HeLa Cell Lysate
Species Reactivity : H, M, R
GI Number : 50539410
Accession Number : NP_659458
Short Description : Cellular modulator of immune recognition
References
1. Coscoy L, Sanchez DJ, and Ganem D. A novel class of herpesvirus-encoded membrane-bound E3 ubiquitin ligases regulates endocytosis of proteins involved in immune recognition. J. Cell Biol. 2001; 155:126573.
2. Goto E, Ishido S, Sato Y, et al. c-MIR, a human E3 ubiquitin ligase, is a functional homolog of herpesvirus proteins MIR1 and MIR2 and has similar activity. J. Biol. Chem. 2003; 278:14657-68.
3. Ohmura-Hoshino M, Goto E, Matsuki Y, et al. A novel family of membrane-bound E3 ubiquitin ligases. J. Biochem. 2006; 140:147-54.
4. Bartee E, Mansouri M, Hovey Nerenberg BT, et al. Downregulation of major histocompatibility complex class I by human ubiquitin ligases related to viral immune evasion proteins. J. Virol. 2004; 78:1109-20.