SCARB1 Antibody
Catalog# :5193
Scavenger receptor class B member 1 (SCARB1), also known as SR-BI, is part of the scavenger receptor superfamily, which is composed of many members with diverse structures, expression patterns, and functions. SCARB1 is a multi-ligand cell-surface receptor that mediates the selective uptake of lipid from HDL cholesterol into cells and is expressed in steroidogenic tissues in adult animals. Other ligands of SCARB1 include native, acetylated, or oxidized LDL and anionic phospholipids. SCARB1-deficient mice have elevated HDL levels and increased susceptibility to atherosclerosis on fat feeding, indicating its importance in the regulation of cholesterol homeostasis. Along with CLDN1, LDL-R, and the tetraspanin superfamily member CD81, SCARB1 has been reported to be an entry factor for the Hepatitis C virus. At least two isoforms of SCARB1 are known to exist.
Additional Names : SCARB1, Scavenger receptor class B member 1, SRB1, SR-BI, CD36 antigen-like 1, CD36 and LIMPII analogous 1, CLA-1, CLA1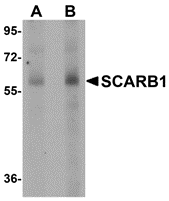 Description
Left: Western blot analysis of SCARB1 in human spleen tissue lysate with SCARB1 antibody at (A) 1 and (B) 2 µg/ml.
Source :SCARB1 antibody was raised against a 15

amino acid

peptide near the amino terminus of human SCARB1.
Purification : Affinity chromatography purified via peptide column
Clonality and Clone : This is a polyclonal antibody.
Host : SCARB1 antibody was raised in rabbit.
Application : SCARB1 antibody can be used for detection of SCARB1 by Western blot at 1 - 2 µg/ml.
Tested Application(s) : E, WB
Buffer : Antibody is supplied in PBS containing 0.02% sodium azide.
Blocking Peptide :Cat.No. 5193P - SCARB1 Peptide
Long-Term Storage : SCARB1 antibody can be stored at 4ºC, stable for one year. As with all antibodies care should be taken to avoid repeated freeze thaw cycles. Antibodies should not be exposed to prolonged high temperatures.
Positive Control :
1. Cat. No. 1306 - Human Spleen Tissue Lysate
Species Reactivity : H, M, R
GI Number : 37999904
Accession Number : Q8WTV0
Short Description : Scavenger receptor class B member 1
References
1. Greaves DR, Gough PJ, and Gordon S. Recent progress in defining the role of scavenger receptors in lipid transport, atherosclerosis and host defence. Curr. Op. Lipid. 1998; 9:425-32.
2. Acton S, Rigotti A, Landschulz KT, et al. Identification of scavenger receptor SR-BI as a high density lipoprotein receptor. Science 1996; 271:518-20.
3. Krieger M. Charting the fate of the "good cholesterol": identification and characterization of the HDL receptor SR-BI. Annu. Rev. Biochem. 1999; 68:523–88.
4. Trigatti B, Rayburn H, Vinals M, et al. Influence of the high density lipoprotein receptor SR-BI on reproductive and cardiovascular pathophysiology. Proc. Natl. Acad. Sci. USA 1999; 96:9322-7.