STIM1 Antibody
Catalog# :4119
In T lymphocytes, the sole pathway for Ca++ entry following antigen-receptor binding is through store-operated Ca++-release-activated Ca++ (CRAC) channels. These channels are made up of the pore-forming subunit ORAI1 and the stromal interaction molecule 1 (STIM1), a protein that functions as a Ca++ sensor and activates the CRAC channels, migrating to the plasma membrane from endoplasmic reticulum (ER)-like sites which act as the Ca++ store. A related molecule, STIM2, acts to inhibit the STIM1-mediated store-operated Ca++ entry, and can form complexes with STIM1, suggesting they may play a coordinated role in controlling Ca++ entry. At least two isoforms of STIM1 are known to exist; this

antibody

will detect only the larger form. This STIM1 antibody is predicted to have no cross-reactivity to STIM2.
Additional Names : STIM1, Stromal interaction molecule 1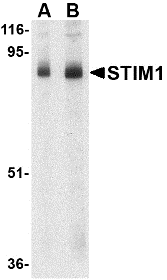 Description
Left:
Western blot analysis of STIM1 in mouse thymus tissue lysate with STIM1

antibody

at (A) 1 and (B) 2 µg/ml.
Below:
Immunohistochemistry of STIM1 in human spleen tissue with STIM1 antibody at 2.5 µg/ml.
Other Product Images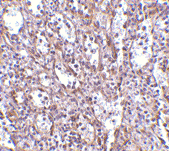 Source :STIM1 antibody was raised against a 24

amino acid peptide

from near the carboxy terminus of human STIM1.
Purification : Affinity chromatography purified via peptide column
Clonality and Clone : This is a polyclonal

antibody

.
Host : STIM1 antibody was raised in rabbit.
Please use anti-rabbit secondary antibodies.
Application : STIM1 antibody can be used for detection of STIM1 by Western blot at 1 – 2 µg/ml.
Tested Application(s) : E, WB, IHC
Buffer : Antibody is supplied in PBS containing 0.02% sodium azide.
Blocking Peptide :Cat.No. 4119P - STIM1 Peptide
Long-Term Storage : STIM1

antibody

can be stored at 4ºC, stable for one year. As with all antibodies care should be taken to avoid repeated freeze thaw cycles. Antibodies should not be exposed to prolonged high temperatures.
Positive Control :
1. Cat. No. 1409 - Mouse Thymus Tissue Lysate
2. Cat. No. 1306 - Human Spleen Tissue Lysate
Species Reactivity : H, M, R
GI Number : 21070997
Accession Number : NP_003147
Short Description : a calcium sensor that activates the CRAC channels
References
1. Luik RM and Lewis RS. New insights into the molecular mechanisms of store-operated Ca2+ signaling in T cells. Trends Mol. Med. 2007; 13:103-7.
2. Feske S, Gwack Y, Prakriya M, et al. A mutation in Orai1 causes immune deficiency by abrogating CRAC channel function. Nature 2006; 441:179-85.
3. Zhang SL, Yu Y, Roos J, et al. STIM1 is a Ca2+ sensor that activates CRAC channels and migrates from the Ca2+ store to the plasma membrane. Nature 2005; 437:902-5.
4. Spassova MA, Soboloff J, He L-P, et al. STIM1 has a plasma membrane role in the activation of store-operated Ca2+ channels. Proc. Natl. Acad. Sci. USA 2006; 103:4040-5.