Prosapip2 Antibody
Catalog# :5397
Prosapip2 (TBKBP1) is essential for signal transduction during viral infection thus plays a major role in the TNF/NF-kappaB pathway. It is an adaptor protein that constitutively binds TBK1 (TANK-binding kinase) and IKBKE and may play a role in antiviral innate immunity. Prosapip2 is a 615 amino acid adaptor protein belonging to the fibrillar collagen family, consisting of trimers of identical alpha 1 chains which are linked to each other by interchain disulfide bonds. It has a ubiquitous expression with highest levels in ovary, followed by the neuronal system. Prosapip2 binds to TBK1 and helps in the activation of IRF3 which controls the expression of antiviral genes during infection. Recent studies show that Prosapip2 is an interaction partner of ProSAP2/Shank3 and actin, suggesting a role as a linker molecule between postsynaptic density and the cytoskeleton.
Additional Names : Prosapip2 (CT), TANK-binding kinase 1-binding protein, TBK1-binding protein 1, TBKBP1, SINTBAD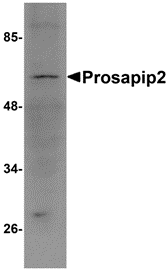 Description
Left:
Western blot analysis of Prosapip2 in rat liver tissue lysate with Prosapip2 antibody at 1 µg/ml.
Source :Prosapip2 antibody was raised against a 16 amino acid peptide from near the carboxy terminus of human Prosapip2.
Purification : Affinity chromatography purified via peptide column
Clonality and Clone : This is a polyclonal antibody.
Host : Prosapip2 antibody was raised in rabbit.
Please use anti-rabbit secondary antibodies
Application : Prosapip2 antibody can be used for detection of Prosapip2 by Western blot at 1 - 2 µg/ml.
Tested Application(s) : E, WB
Buffer : Antibody is supplied in PBS containing 0.02% sodium azide.
Blocking Peptide :Cat.No. 5397P - Prosapip2 Peptide
Long-Term Storage : Prosapip2 antibody can be stored at 4ºC, stable for one year. As with all antibodies care should be taken to avoid repeated freeze thaw cycles. Antibodies should not be exposed to prolonged high temperatures.
Positive Control :
1. Cat. No. 1464 - Rat Liver Tissue Lysate
Species Reactivity : H, M, R
GI Number : 7662302
Accession Number : NP_055541
Short Description : TANK-binding kinase 1-binding protein
References
1. Bouwmeester T, Bauch A, Ruffner H, et al. A physical and functional map of the human TNF-alpha/NF-kappa B signal transduction pathway. Nat. Cell Biol. 2004; 6:97–105
2. Ryzhakov G and Randow F. SINTBAD, a novel component of innate antiviral immunity, shares a TBK1-binding domain with NAP1 and TANK. EMBO J. 2007; 26:3180–90.
3. Meffert MK, Chang JM, Wiltgen BJ, et al. NF-kappa B functions in synaptic signaling and behavior. Nat. Neurosci. 2003; 6:1072–78.
4. Liebau S, Proepper C, Schmidt T, et al. ProSAPiP2, a novel postsynaptic density protein that interacts with ProSAP2/Shank3. Biochem. Biophys. Res Commun. 2009; 385:460-5.