IL-23 Antibody
Catalog# :3795
Like interleukin-27 (IL-27), IL-23 is a recently discovered member of the IL-6/IL-12 family of proinflammatory and immunoregulatory cytokines. It exists as a heterodimer composed of the IL-12p40 subunit and a novel p19 subunit. IL-23 is secreted by activated dendritic cells, macrophages, and monocytes (3,4). Its biological activities include enhancing the proliferation of memory T cells and the production of IFN-gamma, IL-12, and TNF-alpha from activated T cells, and can stimulate macrophages to produce TNF-alpha and nitric oxide. It has also been shown to possess potent anti-tumor and anti-metastatic activity in mouse models of cancer, suggesting a potential role for IL-23 in therapeutic treatment of cancer.
Additional Names : IL-23 (NT), Interleukin-23, IL-23 p19, SGRF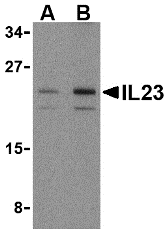 Description
Left: Western blot analysis of IL-23 in mouse pancreas tissue lysate with IL-23

antibody

at (A) 1 and (B) 2 µg/ml.
Below:Immunohistochemistry of IL-23 in mouse pancreas tissue with IL-23 antibody at 2 µg/ml.
Other Product Images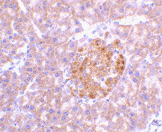 Source :IL-23

antibody

was raised against a 16

amino acid peptide

from near the amino terminus of human IL-23.
Purification : Affinity chromatography purified via peptide column
Clonality and Clone : This is a polyclonal antibody.
Host : IL-23 antibody was raised in rabbit.
Please use anti-rabbit secondary antibodies.
Application : IL-23 antibody can be used for the detection of IL-23 by Western blot at 1 - 2 µg/ml.
Tested Application(s) : E, WB, IHC
Buffer :

Antibody

is supplied in PBS containing 0.02% sodium azide.
Blocking Peptide :Cat.No. 3795P - IL-23

Peptide
Long-Term Storage : IL-23 antibody can be stored at 4ºC, stable for one year. As with all antibodies care should be taken to avoid repeated freeze thaw cycles. Antibodies should not be exposed to prolonged high temperatures.
Positive Control :
1. Cat. No. 1414 - Mouse Pancreas Tissue Lysate
Species Reactivity : H, M
GI Number : 42542809
Accession Number : AAH66268
Short Description : (NT) Interleukin 23
References
1. Hunter CA. New IL-12-family members: IL-23 and IL-27, cytokines with divergent functions. Nat. Rev. Immunol. 2005; 5:521-31.
2. Oppmann B, Lesley R, Blom B, et al. Novel p19 protein engages IL-12p40 to form a cytokine, IL-23, with biological activities similar as well as distinct from IL-12. Immunity 2000; 13:715-25.
3. Sheibanie AF, Tadmori I, Jing H, et al. Prostaglandin ED induces IL-23 production in bone marrow-derived dendritic cells. FASEB J. 2004; 18:1318-20.
4. Pirhonen J, Matikainen S, Julkunen I. Regulation of virus-induced IL-12 and IL-23 expression in human macrophages. J. Immunol. 2002; 169:5673-8.