IL-27 Antibody
Catalog# :3797
Like interleukin-23 (IL-23), IL-27 is a recently discovered member of the IL-6/IL-12 family of proinflammatory and immunoregulatory cytokines. It exists as a heterodimer composed of the p40-related protein EBI3 and an IL-12 p35-related protein termed p28. IL-27 is produced after activation by antigen-presenting cells and induces proliferation of naïve but not memory CD4+ T-cells. It acts by binding to its receptor WSX-1 and gp130 which results in the activation of a Jak/STAT signaling cascade, suggesting the IL-27 is involved in the regulation of immune processes. It has been suggested that IL-27 can also be used as a therapeutic agent against cancer as it can also induce tumor-specific anti-tumor activity mediated through CD8+ T-cells, IFN-gamma, and T-bet.
Additional Names : IL-27 (NT), Interleukin-27, IL-27 p28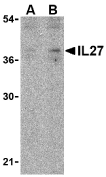 Description
Left:
Western blot analysis of IL-27 in EL4 lysate with IL-27

antibody

at (A) 2 and (B) 4 µg/ml.
Below:
Immunocytochemistry of IL-27 in EL4 with IL-27 antibody at 10 µg/ml.
Other Product Images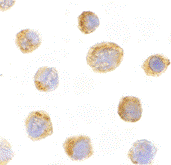 Source :IL-27 antibody was raised against a 16

amino acid peptide

from near the amino terminus of human IL-27.
Purification : Affinity chromatography purified via peptide column
Clonality and Clone : This is a polyclonal antibody.
Host : IL-27 antibody was raised in rabbit.
Please use anti-rabbit secondary antibodies.
Application : IL-27 antibody can be used for the detection of IL-27 by Western blot at 2 - 4 µg/ml.
Tested Application(s) : E, WB, ICC
Buffer : Antibody is supplied in PBS containing 0.02% sodium azide.
Blocking Peptide :Cat.No. 3797P - IL-27 Peptide
Long-Term Storage : IL-27

antibody

can be stored at 4ºC, stable for one year. As with all antibodies care should be taken to avoid repeated freeze thaw cycles. Antibodies should not be exposed to prolonged high temperatures.
Positive Control :
1. Cat. No. 1287 - EL4 Cell Lysate
Species Reactivity : H, M
GI Number : 28416913
Accession Number : NP_663634
Short Description : (NT) Interleukin 27
References
1. Hunter CA. New IL-12-family members: IL-23 and IL-27, cytokines with divergent functions. Nat. Rev. Immunol. 2005; 5:521-31.
2. Pfanz S, Hibbert L, Mattson J, et al. WSX-1 and glycoprotein 130 constitute a signal-transducing receptor for IL-27. J. Immunol. 2004; 172:2225-31.
3. Hisada M, Kamiya S, Fujita K, et al. Potent antitumor activity of interleukin-27. Cancer Res. 2004; 64:1152-6.