IL-33 Antibody
Catalog# :4273
Interleukin-33 (IL-33) is a recently identified member of the IL-1 family of cytokines whose other members include IL-1a/b, IL-1Ra and IL-18. Its receptor has been shown to be ST2, an IL-1 receptor family member that also acts as a negative regulator of TLR-IL-1R signaling and IL-1R accessory protein (IL-1RAcP). Receptor binding of IL-33 activates NF-kappaB and MAP kinases and induces the expression of TH2-associated cytokines such as IL-4, IL-5 and IL-6. Prolonged IL-33 treatment of mice led to the development of eosinophilia, splenomegaly, and severe pathological changes in mucosal organs such as lungs, esophagus and small intestine. Recent experiments have shown that IL-33 can also co-localize with heterochromatin and possesses transcriptional repressor activities, indicating that IL-33 may function as both a proinflammatory cytokine and an intracellular nuclear factor with transcriptional regulatory properties. Despite its predicted molecular weight, IL-33 will often run at higher molecular weight in SDS-PAGE.
Additional Names : IL-33 (IN), Interleukin-33, Nuclear factor from high endothelial venules, NFHEV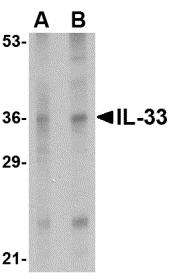 Description
Left:
Western blot analysis of IL-33 in human lymph node tissue lysate with IL-33 antibody at (A) 1 and (B) 2 µg/ml.
Source :IL-33 antibody was raised against a 19

amino acid

peptide from near the center of human IL-33.
Purification : Affinity chromatography purified via peptide

column
Clonality and Clone : This is a

polyclonal antibody

.
Host : IL-33 antibody was raised in rabbit.
Please use anti-rabbit secondary antibodies.
Application : IL-33 antibody can be used for the detection of IL-33 by Western blot at 1 µg/ml.
Tested Application(s) : E, WB
Buffer : Antibody is supplied in PBS containing 0.02% sodium azide.
Blocking Peptide :Cat.No. 4273P - IL-33 Peptide
Long-Term Storage : IL-33

antibody

can be stored at 4ºC, stable for one year. As with all antibodies care should be taken to avoid repeated freeze thaw cycles. Antibodies should not be exposed to prolonged high temperatures.
Positive Control :
1. Cat. No. 1369 - Human Lymph Node Tissue Lysate
Species Reactivity : H, M, R
GI Number : 15559209
Accession Number : NP_254274
Short Description : (IN) Interleukin-33
References
1. Schmitz J, Owyang A, Oldham E, et al. IL-33, and interleukin-1-like cytokine that signals via the IL-1 receptor-related protein ST2 and induces T helper type 2-associated cytokines. Immunity 2005; 23:479-90.
2. Dinarello CA. Interleukin-18, a proinflammatory cytokine. Eur. Cytokine Netw. 2000; 11:483-6.
3. Brint EK, Xu D, Liu H, et al. ST2 is an inhibitor of interleukin 1 receptor and Toll-like receptor 4 signaling and maintains endotoxin tolerance. Nat. Immunol. 2004; 5:373-9.
4. Chackerian AA, Oldham ER, Murphy EE, et al. IL-1 receptor accessory protein and ST2 comprise the IL-33 receptor complex. J. Immunol. 2007; 179:2551-5.