MICA Antibody
Catalog# :4261
Major histocompatibility complex (MHC) class I proteins are ubiquitously expressed and mediate the recognition of intracellular antigens by cytotoxic T cells. A related family, termed the MHC class I chain-related (MIC) proteins are recognized by NKG2D, a receptor on NK and T cells, and promote anti-tumor activity. MICA, a member of the MIC family, is widely expressed on many tumors, and it is the MICA/NKG2D interaction that is thought to stimulate the anti-tumor reactivity by T lymphocytes. Both MICA and MICB mRNA are widely expressed in normal tissues, with MICA being present in virtually every tissue except the nervous system, suggesting that MIC protein expression may only be one component of the anti-tumor activity of the immune system.
Additional Names : MICA, MHC class I chain-related protein A, HLA-B, HLA-C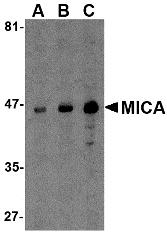 Description
Left:
Western blot analysis of MICA in A-20 cell lysate with MICA antibody at (A) 0.5, (B) 1 and (C) 2 µg/ml.
Below:
Immunohistochemistry of MICA in human colon tissue with MICA antibody at 10 µg/ml.
Other Product Images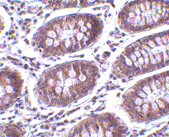 Source :MICA antibody was raised against a 16 amino acid peptide from near the carboxy terminus of human MICA.
Purification : Affinity chromatography purified via peptide column
Clonality and Clone : This is a polyclonal antibody.
Host : MICA antibody was raised in rabbit.
Please use anti-rabbit secondary antibodies.
Application : MICA antibody can be used for detection of MICA by Western blot at 0.5 - 1 µg/ml.
Tested Application(s) : E, WB, IHC
Buffer : Antibody is supplied in PBS containing 0.02% sodium azide.
Blocking Peptide :Cat.No. 4261P - MICA Peptide
Long-Term Storage : MICA antibody can be stored at 4ºC, stable for one year. As with all antibodies care should be taken to avoid repeated freeze thaw cycles. Antibodies should not be exposed to prolonged high temperatures.
Positive Control :
1. Cat. No. 1203 - A549 Cell Lysate
2. Cat. No. 1320 - Human Colon Tissue Lysate
Species Reactivity : H, M
GI Number : 4557751
Accession Number : NP_000238
Short Description : MHC class I chain-related protein A
References
1. Rudolph MG, Stanfield RL and Wilson IA. How TCRs bind MHCs, peptides, and coreceptors. Annu. Rev. Immunol. 2006; 24:419-66.
2. Bahram S, Bresnahan M, Geraghty DE, et al. A second lineage of mammalian major histocompatibility complex I genes. Proc. Natl. Acad. Sci. USA 1994; 91:6259-63.
3. Bauer S, Groh V, Wu J, et al. Activation of NK cells and T cells by NKG2D, a receptor for stress-inducible MICA. Science 1999; 285:727-9.
4. Maccalli C, Pende D, Castelli C, et al. NKG2D engagement of colorectal cancer-specific T cells strengthens TCR-mediated antigen stimulation and elicits TCR independent anti-tumor activity. Eur. J. Immunol. 2003; 33:2033-43.