KLRA3 Antibody
Catalog# :4993
KLRA3 (also known as Ly49C) is a member of the LY49 family of receptors in Natural Killer (NK) cells that bind to major histocompatibility complex (MHC) class 1. These proteins are classified as either activating or inhibitory receptors based on whether they possess an immunoreceptor tyrosine-based inhibitory motif (ITIM) in their cytoplasmic region (for inhibitory receptors), or an immunoreceptor tyrosine-based activation motif (ITAM) that transmits activating signals resulting in phosphorylation of several substrates. KLRA3 is thought to be an inhibitory receptor, recognizing peptide –receptive H-2Kb. This antibody may cross-react with other LY49 receptors.
Additional Names : KLRA3, Killer cell lectin-like receptor subfamily A member 3, Ly49C, Nk2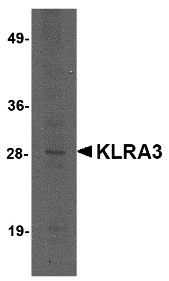 Description
Left: Western blot analysis of KLRA3 in mouse brain tissue lysate with KLRA3 antibody at 2 µg/ml.
Source :KLRA3 antibody was raised against a 14 amino acid peptide near the carboxy terminus of mouse KLRA3.
Purification : Affinity chromatography purified via peptide column
Clonality and Clone : This is a polyclonal antibody.
Host : KLRA3 antibody was raised in rabbit.
Please use anti-rabbit secondary antibodies.
Application : KLRA3 antibody can be used for detection of KLRA3 by Western blot at 2 – 4 µg/ml.
Tested Application(s) : E, WB
Buffer : Antibody is supplied in PBS containing 0.02% sodium azide.
Blocking Peptide :Cat.No. 4993P - KLRA3 Peptide
Long-Term Storage : KLRA3 antibody can be stored at 4ºC, stable for one year. As with all antibodies care should be taken to avoid repeated freeze thaw cycles. Antibodies should not be exposed to prolonged high temperatures.
Positive Control :
1. Cat. No. 1403 - Mouse Brain Tissue Lysate
Species Reactivity : M, R
GI Number : 124376782
Accession Number : AAI32525
Short Description : Killer cell lectin-like receptor subfamily A member 3
References
1. Gosselin P, Lusignan Y, Brennan J, et al. The NK2.1 receptor is encoded by Ly-49C and its expression is regulated by MHC class I alleles. Int. Immunol. 1997; 533-40.
2. Smith HR, Karlhofer FM, and Yokoyama WM. Ly-49 multigene family expressed by IL-2-activated NK cells. J. Immunol. 1994; 153:1068-79.
3. Brennan J, Mager D, Jefferies W, et al. Expression of different members of the Ly-49 gene family defines distinct natural killer cell subsets and cell adhesion properties. J. Exp. Med. 1994; 180:2287-95.
4. Su R-C, Kung SK, Silver ET, et al. Ly-49CB6 NK inhibitory receptor recognizes peptide-receptive H-2Kb. J. Immunol. 1999; 163:5319-30.