APH1 Antibody
Catalog# :4001
APH1 was initially identified as a component of the Notch pathway in C. elegans. Along with nicastrin, PEN2, and presenilin-1 APH1 is an essential component of the gammasecretase complex which cleave the amyloid precursor protein (APP) at what are known as the gamma and epsilonsites and can lead to the accumulation of the Amyloid betapeptide Abetacleavage product that is associated with Alzheimer's disease. APH1 exists in at least three distinct isoforms with APH1alpha as the principal isoform present in the gammasecretase complex. Mice deficient in this isoform, but not the other two, were lethal at E10.5, with impaired vascular and neural development observed. Despite its predicted molecular weight, APH1 protein often migrates at aberrant locations in SDS-PAGE.
Additional Names : APH1 (NT), Anterior pharynx defective 1, presenilin stabilization factor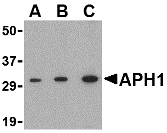 Description
Left:
Western blot analysis of APH1 in RAW264.7 cell lysate with APH1

antibody

at (A) 0.5, (B) 1 and (C) 2 µg/ml.
Source :APH1 antibody was raised against a 13 amino acid peptide from near the amino terminus of human APH1a.
Purification : Affinity chromatography purified via peptide column
Clonality and Clone : This is a

polyclonal antibody

.
Host : APH1 antibody was raised in rabbit.
Please use anti-rabbit secondary antibodies.
Application : APH1

antibody

can be used for detection of APH1 by Western blot at 0.5 – 1 µg/ml.
Tested Application(s) : E, WB
Buffer : Antibody is supplied in PBS containing 0.02% sodium azide.
Blocking

Peptide

:Cat.No. 4001P - APH1 Peptide
Long-Term Storage : APH1 antibody can be stored at 4ºC, stable for one year. As with all antibodies care should be taken to avoid repeated freeze thaw cycles. Antibodies should not be exposed to prolonged high temperatures.
Positive Control :
1. Cat. No. 1283 - RAW264.7 Cell Lysate
Species Reactivity : H, M
GI Number : 14250557
Accession Number : AAH08732
Short Description : (NT) a component of the presenilin complex
References
1. Goutte C, Tsunozaki M, Hale VA, et al. APH-1 is a multipass membrane protein essential for the Notch signaling pathway in Caenorhabditis elegans embryos. Proc. Natl. Acad. Sci. USA 2002; 99:775-9.
2. Periz G and Fortini ME. Functional reconstitution of gammasecretase through coordinated expression of presenilin, nicastrin, aph-1, and pen-2. J. Neurosci. Res. 2004; 77:309-22.
3. Selkoe DJ. The cell biology of betaamyloid precursor protein and presenilin in Alzheimer's disease. Trends Cell Biol. 1998; 8:447-53.
4. Ma G, Li T, Price DL, et al. APH-1a is the principal mammalian aph-1 isoform present in g-secretase complexes during embryonic development. Neuro. Dis. 2005; 25:192-8.