Catalog#
:4379
The Na+/H+ antiporter (Nhe-1) is a ubiquitous membrane-bound enzyme involved in pH regulation of vertebrate cells and is specifically inhibited by the diuretic drug amiloride and activated by a variety of signals including growth factors, mitogens, neurotransmitters, and tumor promoters. Nhe-1 acts as an anchor for actin filaments to control the integrity of the cortical cytoskeleton. This occurs through a previously unrecognized structural link between Nhe-1 and the actin-binding proteins ezrin, radixin, and moesin, collectively referred to as ERM proteins. A structural role for Nhe-1 has been proposed in regulating the cortical cytoskeleton that is independent of its function as an ion exchanger. It is also thought that Nhe-1 play a role in hypertension. At least two isoforms of Nhe-1 are known to exist.
Additional Names : Nhe-1 (IN), Sodium-hydrogen exchanger 1, solute carrier family 9 member 1, SLC9A1, Na+/H+ antiporter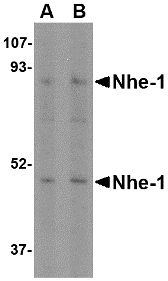 Description
Left: Western blot analysis of Nhe-1 in MOLT4 cell lysate with in with Nhe-1 antibody at (A) 1 and (B) 2 µg/ml.

Below: Immunohistochemical staining of human brain tissue using Nhe-1 antibody at 2.5 µg/ml.




Other Product Images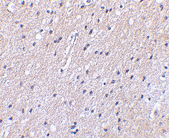 Source :
Nhe-1
antibody
was raised against a 17 amino acid
peptide
near the center of the human Nhe-1.
Purification :
Affinity chromatography purified via peptide column
Clonality and Clone :
This is a polyclonal
antibody
.
Host :
Nhe-1 antibody was raised in rabbit.
Please use anti-rabbit secondary antibodies.
Application :
Nhe-1 antibody can be used for detection of Nhe-1 by Western blot at 1 – 2 µg/ml.
Tested Application(s) :
E, WB, IHC
Buffer :
Antibody
is supplied in PBS containing 0.02% sodium azide.
Blocking Peptide :
Cat.No. 4379P - Nhe-1
Peptide
Long-Term Storage :
Nhe-1 antibody can be stored at 4ºC, stable for one year. As with all antibodies care should be taken to avoid repeated freeze thaw cycles. Antibodies should not be exposed to prolonged high temperatures.
Positive Control :
1. Cat.
No. 1206 - MOLT4 Cell Lysate
Species Reactivity :
H, M, R
GI Number :
127809
Accession Number :
P19634
Short Description :
(IN) Sodium-hydrogen exchanger 1
References
1.
Mendoza SA. The Na+-H+ antiport is a mediator of cell proliferation. Acta Paediatr. Scand. 1987; 76:545-7.
2.
Denker SP, Huang DC, Orlowski J, et al. Direct binding of the NA—H exchanger NHE1 to ERM proteins regulates the cortical cytoskeleton and cell shape independently of H(+) translocation. Mol. Cell. 2000; 6:1425-36.
3.
Cingolani HE, Rebolledo OR, Portiansky EL, et al. Regression of hypertensive myocardial fibrosis by NA (+)/H(+) exchange inhibition. Hypertension 2003; 41:373-7.