Catalog# :4295
Disrupted in schizophrenia 1 (DISC1) is a candidate gene for susceptibility to schizophrenia. It was discovered through chromosomal analysis of a large Scottish family whose members exhibited schizophrenia and related psychiatric disorders. Through yeast two-hybrid screening, it was discovered that DISC1 interacts with many members of the centrosome and cytoskeletal system including MAP1A and Nudel. More recently, DISC1 has been found to regulate the transport of a complex containing Nudel, the lissencephaly-1 (LIS1) protein, and 14-3-3e from neuronal cell bodies to the axons by the action of the microtubule-dependent directed motor protein kinesin-1, also known as KIF5A. Decreased expression of DISC1 in neurons caused an accelerated rate of neuronal integration, resulting in aberrant morphological development, suggesting that DISC1 plays a role in dendritic development and synapse formation. DISC1 has at least four known isoforms.
Additional Names : DISC1 (IN), Disrupted in schizophrenia 1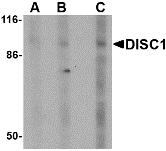 Description
Left: Western blot analysis of DISC1 in SK-N-SH cell lysate with DISC1 antibody at (A) 0.5, (B) 1 and (C) 2 µg/ml.

Below:Immunocytochemistry of DISC1 in HeLa cells with DISC1 antibody at 5 µg/ml.

Other Product Images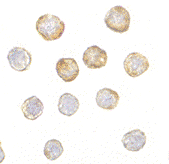 Source :

DISC1 antibody was raised against a 18 amino acid peptide from near the center of human DISC1.


Purification :

Affinity chromatography purified via peptide column


Clonality and Clone :

This is a polyclonal antibody.


Host :

DISC1 antibody was raised in rabbit.
Please use anti-rabbit secondary antibodies.


Application :

DISC1 antibody can be used for detection of DISC1 by Western blot at 1 – 2 µg/ml.


Tested Application(s) :

E, WB, ICC


Buffer :

Antibody is supplied in PBS containing 0.02% sodium azide.


Blocking Peptide :

Cat.No. 4295P - DISC1 Peptide


Long-Term Storage :

DISC1 antibody can be stored at 4ºC, stable for one year. As with all antibodies care should be taken to avoid repeated freeze thaw cycles. Antibodies should not be exposed to prolonged high temperatures.


Positive Control :


1.Cat. No. 1220 - SK-N-SH Cell Lysate


Species Reactivity :

H, M


GI Number :

61742823


Accession Number :

NP_061132


Short Description :

(IN) Disrupted in schizophrenia 1


References




1.

Millar JK, Wilson-Annan JC, Anderson S, et al. Disruption of two novel genes by a translocation co-segregating with schizophrenia. Hum. Mol. Genet. 2000; 9:1415-23.


2.

Morris JA, Kandpal G, Ma L, et al. DISC1 (Disrupted-in-schizophrenia 1) is a centrosome-associated protein that interacts with MAP1A, MIPT3, ATF4/5 and NUDEL: regulation and loss of interaction with mutation. Hum. Mol. Genet. 2003; 12:1591-608.


3.

Taya S, Shinoda T, Tsuboi D, et al. DISC1 regulates the transport of the NUDEL/LIS1/14-3-3e complex through kinesin-1. J. Neurosci. 2007; 27:15-26.


4.

Duan X, Chang JH, Ge S, et al. Disrupted-in-schizophrenia 1 regulates integration of newly generated neurons in the adult brain. Cell 2007; 1146-58.