TRIM30 Antibody



Catalog# :4747

TRIM30 belongs to a family of the tripartite motif (TRIM) proteins involved in the regulation of cell proliferation, differentiation, development, oncogenesis, apoptosis and antiviral responses. The TRIM protein family is an expanding family of RING ('really interesting new gene') proteins, also known as RBCC proteins as they contain an RBCC motif, which comprises a RING domain, one or two B-boxes and a predicted coiled-coil region. Studies have shown that some TRIM family members are critical to innate immunity; TRIM5, TRIM19 and TRIM25, for example, have been shown to restrict viral infection. A recent study shows that TRIM30 functions as a negative modulator of the TLR signaling pathway, by targeting TAB2 and TAB3, and contributes to the inhibition of TLR-mediated NFkappa-B activation. The importance of TRIM30 in the attenuation or termination of NFkappa-B activation suggests that targeting of TAB2 and TAB3 by TRIM30 alpha may be a mechanism for modulating many types of immune responses.

Additional Names : TRIM30 (NT), Tripartite motif-containing 30, Rpt-1, Rpt1, down regulatory protein of interleukin 2 receptor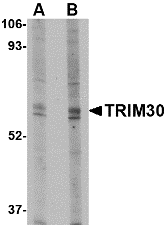 Description
Left: Western blot analysis of TRIM30 in mouse heart tissue lysate with TRIM30 antibody at (A) 1 and (B) 2 µg/ml.

Below:Immunohistochemistry of TRIM30 in mouse ovary tissue with TRIM30 antibody at 10 μg/ml.

Other Product Images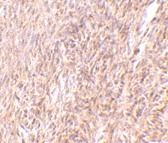 Source :TRIM30 antibody was raised against a 24 amino acid peptide near the amino terminus of the mouse TRIM30.
Purification : Affinity chromatography purified via peptide column
Clonality and Clone : This is a polyclonal antibody.
Host : TRIM30 antibody was raised in rabbit.
Please use anti-rabbit secondary antibodies.
Application : TRIM30 antibody can be used for detection of TRIM30 by Western blot at 1 – 2 µg/ml.
Tested Application(s) : E, WB, IHC
Buffer : Antibody is supplied in PBS containing 0.02% sodium azide.
Blocking Peptide :Cat.No. 4747P - TRIM30 Peptide
Long-Term Storage : TRIM30 antibody can be stored at 4ºC, stable for one year. As with all antibodies care should be taken to avoid repeated freeze thaw cycles. Antibodies should not be exposed to prolonged high temperatures.
Positive Control :
1. Cat. No. 1401 - Mouse Heart Tissue Lysate
Species Reactivity : M, R
GI Number : 125347379
Accession Number : NP_033125
Short Description : (NT) Tripartite motif-containing 30
References
1. Nisole S, Stoye JP, and Saib A. TRIM family proteins: retroviral restriction and antiviral defence. Nat. Rev. Microbiol. 2005; 3:799-808.
2. Sakuma R, Noser JA, Ohmine S, et al. Rhesus monkey TRIM5 alpha restricts HIV-1 production through rapid degradation of viral Gag polyproteins. Nat. Med. 2007; 13:631–635.
3. Gack MU, Shin YC, Joo CH, et al. TRIM25 RING-finger E3 ubiquitin ligase is essential for RIG-I-mediated antiviral activity. Nature 2007; 446:916–920.
4. Patarca R, Freeman GJ, Schwartz J, et al. rpt-1, an intracellular protein from helper/inducer T cells that regulates gene expression of interleukin 2 receptor and human immunodeficiency virus type 1. Proc. Natl. Acad. Sci. USA 1988; 85:2733-7.