ZBP1 Antibody
Catalog# :4401
Z-DNA binding protein 1 (ZBP1) belongs to a family of proteins that contain the Za domain which binds specifically to left-handed Z-DNA and Z-RNA. ZBP1 was initially identified as a novel gene that was up-regulated in activated macrophages in mice bearing ascites tumors, suggesting that is may play a role in processes such as host response in neoplasia. More recent reports indicate that the cytosolic ZBP1 has can act like the toll-like receptor TLR9 by detecting cytosolic double-stranded (ds) DNA and trigger induction of type I interferon and other innate immune responses. It is thought that the binding of ZBP1 to dsDNA enhances its association with innate immune response proteins such as the IRF3 transcription factor and the serine/threonine kinase TBK1 (also known as NAK). Multiple isoforms of ZBP1 are known to exist.
Additional Names : ZBP1, Z-DNA binding protein 1, DLM-1, DAI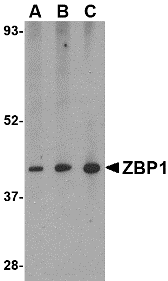 Description
Left:
Western blot analysis of ZBP1 in mouse small intestine tissue lysate with ZBP1 antibody at (A) 0.5, (B) 1 and (C) 2 µg/ml.
Other Product Images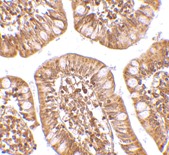 Source :ZBP1 antibody was raised against a 18 amino acid peptide from near the carboxy terminus of human ZBP1.
Purification : Affinity chromatography purified via peptide column
Clonality and Clone : This is a polyclonal antibody.
Host : ZBP1 antibody was raised in rabbit.
Please use anti-rabbit secondary antibodies.
Application : ZBP1 antibody can be used for the detection of ZBP1 by Western blot at 0.5 – 1 µg/ml.
Tested Application(s) : E, WB, IHC
Buffer : Antibody is supplied in PBS containing 0.02% sodium azide.
Blocking Peptide :Cat.No. 4401P - ZBP1 Peptide
Long-Term Storage : ZBP1 antibody can be stored at 4ºC, stable for one year. As with all antibodies care should be taken to avoid repeated freeze thaw cycles. Antibodies should not be exposed to prolonged high temperatures.
Positive Control :
1. Cat. No. 1408 - Mouse Small Intestine Tissue Lysate
Species Reactivity : H, M, R
GI Number : 119595916
Accession Number : EAW75510
Short Description : Z-DNA binding protein 1
References
1. Schwartz T, Behlke J, Lowenhaupt K, et al. Structure of the DLM-1-Z-DNA complex reveals a conserved family of Z-DNA-binding proteins. Nat. Struct. Biol. 2001; 8:761-5.
2. Fu Y, Comella N, Tognazzi K, et al. Cloning of DLM-1, a novel gene that is up-regulated in active macrophages, using RNA differential display. Gene 1999; 204:157-63.
3. Takaoda A, Wang Z, Choi MK, et al. DAI (DLM-1/ZBP1) is a cytosolic DNA sensor and an activator of innate immune response. Nature 2007; 448:501-5.