BACE2 Antibody
Catalog#

:2247
Accumulation of the amyloid-beta (alphabeta) plaque in the cerebral cortex is a critical event in the pathogenesis of Alzheimer's disease. alphabeta peptide is generated by proteolytic cleavage of the beta-amyloid protein precursor (APP) at beta- and gamma-sites by proteases. The long-sought beta-secretase was recently identified by several groups independently and designated beta-site APP cleaving enzyme (BACE) and aspartyl protease 2 (Asp2) (1-4). A BACE homolog was recently cloned and designated BACE2, Asp1, DRAP (for Down region aspartic protease), and memapsin 1 (4-9). BACE2 also cleaves APP at beta-site and at a different site within alphabeta (8). BACE2 locates on chromosome 21q22.3, the so-called 'Down critical region', suggesting that BACE2 and alphabeta may also contribute to the pathogenesis of Down syndrome (6,7)
Additional Names : BACE2 (NT), Asp2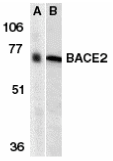 Description
Left:
Western blot analysis of BACE2 in human (A) and mouse (B) heart tissue lysates with BACE2 antibody at 1 µg/ml.
Below:
Immunohistochemistry of BACE2 in mouse heart with BACE2 antibody at 10 µg/ml.
Other Product Images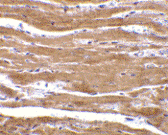 Source

:BACE2 antibody was raised against a synthetic peptide corresponding to amino acids 44 to 59 of human BACE2.
Purification

: Affinity chromatography purified via peptide column
Clonality and Clone

: This is a polyclonal antibody.
Host

: BACE2 antibody was raised in rabbit.
Please use anti-rabbit secondary antibodies.
Immunogen

: Human BACE2 (N-Terminus) Peptide (Cat. No. 2247P)
Application

: BACE2 can be used for detection of BACE2 by Western blot at 0.5 to 1 µg/ml.
Tested Application(s)

: E, WB, IHC
Buffer

: Antibody is supplied in PBS containing 0.02% sodium azide.
Blocking Peptide

:Cat. No. 2247P - BACE2 Peptide
Long-Term Storage

: BACE2 antibody can be stored at 4ºC, stable for one year. As with all antibodies care should be taken to avoid repeated freeze thaw cycles. Antibodies should not be exposed to prolonged high temperatures.
Positive Control :
1. Cat. No. 1301 - Human Heart Tissue Lysate
2. Cat. No. 1401 - Mouse Heart Tissue Lysate
Species Reactivity : H, M, R
GI Number : 6561812
Accession Number : AAF17078
Short Description : (NT) Beta-site APP Cleaving Enzyme 2
References
1. Vassar R, et al. beta-secretase cleavage of Alzheimer's amyloid precursor protein by the transmembrane aspartic protease BACE. Science 1999;286:735-41
2. Hussain I, et al. Identification of a novel aspartic protease (Asp 2) as beta-secretase. Mol Cell Neurosci 1999;14:419-27
3. Sinha S, et al. Purification and cloning of amyloid precursor protein beta-secretase from human brain. Nature 1999;402:537-40
4. Yan R, et al. Membrane-anchored aspartyl protease with Alzheimer's disease beta-secretase activity. Nature 1999;402:533-7