Catalog# :
4403
Fasciculation and elongation protein zeta-2 (FEZ2) is a homolog to the mammalian FEZ1, itself an ortholog of the C. elegans UNC-76. In contrast to FEZ1, FEZ2 mRNA is widely expressed in mouse tissues. FEZ2 interacts with protein kinase C (PKC)-z substrate and induces neurite extension of PC12 cells when co-expressed with a constitutively active form of PKC-z, suggesting FEZ2 may play an important role in the morphological changes of various cells by associating with PKC-z in a tissue non-specific manner. FEZ2 can interact with FEZ1 through its c-terminal regions and especially its coiled-coil region. At least two isoforms of FEZ2 are known to exist.
Additional Names : FEZ2 (CT), Fasciculation and elongation protein zeta-2, zygin 2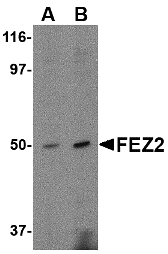 Description
Left: Western blot analysis of FEZ2 in mouse brain tissue lysate with FEZ2 antibody at (A) 0.5, and (B) 1 µg/ml.

Below: Immunofluorescence of human brain tissue using FEZ25 antibody at 5 µg/ml.

Other Product Images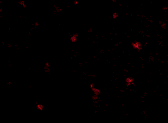 Source :
FEZ2
antibody
was raised against a 15 amino acid
peptide
from near the carboxy terminus of human FEZ2.
Purification :
Affinity chromatography purified via peptide column
Clonality and Clone :
This is a polyclonal antibody.
Host :
FEZ2 antibody was raised in rabbit.
Please use anti-rabbit secondary antibodies.
Application :
FEZ2 antibody can be used for the detection of FEZ2 by Western blot at 0.5 – 1 µg/ml.
Tested Application(s) :
E, WB, IF
Buffer : Antibody is supplied in PBS containing 0.02% sodium azide.
Blocking Peptide :
Cat.No. 4403P - FEZ2
Peptide
Long-Term Storage :
FEZ2
antibody
can be stored at 4ºC, stable for one year. As with all antibodies care should be taken to avoid repeated freeze thaw cycles. Antibodies should not be exposed to prolonged high temperatures.
Positive Control :
1.
Cat. No. 1403 - Mouse Brain Tissue Lysate
Species Reactivity : H, M, R
GI Number :
110349756
Accession Number : NP_001036013
Short Description :
(CT) Fasciculation and elongation protein zeta-2
References
1.
Fujita T, Ikuta J, Okajima T, et al. Identification of a tissue-non-specific homologue of axonal fasciculation and elongation protein zeta-1. Biochem. Biophys. Res. Commun. 2004; 313:738-44.
2.
Kuroda S, Nakagawa N, Tokunaga C, et al. Mammalian homologue of the Caenorhabditis elegans UNC-76 protein involved in axonal outgrowth is a protein kinase C z-interacting protein. J. Cell Biol. 1999; 144:403-11.
3.
Assmann EM, Alborghetti MR, Camargo MER, et al. FEZ1 dimerization and interaction with transcription regulatory proteins involves its coiled-coil region. J. Biol. Chem. 2006; 281:9869-81.