Catalog# :
3015
The mammalian Kelch-like 1 (KLHL1) was initially discovered as a homolog to the Drosophila Kelch gene that is highly expressed in several brain tissues (1,2). The predicted protein domain structure of KLHL1 is characteristic of a number of proteins that bind actin, form dimers, and often act as actin-organizing proteins (3). Based on the presence of anti-sense RNA that spans the transcription and translation start sites as well as the first splice site of KLHL1 in brain tissue of individuals suffering from the neurodegenerative disorder spinocerebellar ataxia type 8 (SCA8), it has been suggested that KLHL1 is involved this disease and that regulation of KLHL1 protein may be affected by antisense RNA expression (1).


Description
Left:
Western blot analysis of KLHL1 in human brain cell lysate with KLHL1
antibody
at (A) 2 and (B) 4 µg /ml.
Below:
Immunohistochemistry of KLHL1 in rat brain tissue with KLHL1 antibody at 10 µg/ml.





Other Product Images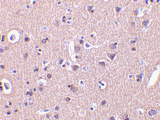 Source :
KLHL1
antibody
was raised against a 14 amino acid
peptide
from near the amino-terminus of human KLHL1.
Purification
: immunoaffinity purified
Clonality and Clone :
This is a polyclonal antibody.
Host :
KLHL1 antibody was raised in rabbit.
Please use anti-rabbit secondary antibodies.
Immunogen :
Human KLHL1 / Kelch-like 1 protein
Peptide
(Cat. No. 3015P)
Application :
KLHL1
antibody
can be used for the detection of KLHL1 by Western blot at 2 - 4 µg/ml.(Optimal dilution should be determined by user). Human brain cell lysate can be used as positive control. KLHL1 antibody is human and rat reactive.
Tested Application(s) :
E, WB, IHC
Buffer :
Antibody is supplied in PBS containing 0.02% sodium azide.
Blocking Peptide :
Cat. No. 3015P - KLHL1
Peptide
Long-Term Storage :
KLHL1
antibody
can be stored at 4ºC, stable for one year. As with all antibodies care should be taken to avoid repeated freeze thaw cycles. Antibodies should not be exposed to prolonged high temperatures.
Positive Control :
1
. Cat. No. 1303 - Human Brain Tissue Lysate
2.
Cat. No. 1403 - Mouse Brain Tissue Lysate
Species Reactivity :
H, R
GI Number :
8926179
Accession Number :
AAF81719
Short Description :
Kelch-like 1 protein
References
1.
Nemes JP, Benzo KA, and Koob MD. The SCA8 transcript is an antisense RNA to a brain-specific transcript encoding a novel actin-binding protein (KLHL1). Human Mol. Gen. 2000; 9:1543-51.
2.
Adams J, Kelso R, and Cooley L. The kelch repeat superfamily of proteins: propellers of cell function. Trends Cell Biol. 2000; 10:17-24.
3.
Robinson DN and Cooley L. Drosophila kelch is an oligomeric ring canal actin organizer. J. Cell Biol. 1997; 138:799-810.