Catalog# :
4389
Glutamate receptors are the predominant excitatory neurotransmitter receptors in the mammalian brain and are activated in a variety of normal neurophysiologic processes. Grik3, also known as glutamate receptor 7, belongs to the kainate family of glutamate receptors, which are composed of four subunits and function as ligand-activated ion channels. Grik3 is highly homologous to the related ionotrophic glutamate receptors Grik2 and Grik1. Grik3 has recently been shown to be an essential subunit of presynaptic kainate autoreceptors at hippocampal mossy fiber synapses as grik3-null mice show significantly reduced short- and long-term synaptic potentiation. Other reports have suggested that different polymorphisms in the Grik3 protein may be associated with neurological defects such as recurrent major depressive disorder and schizophrenia. This Grik3
antibody
does not cross-react with Grik2.
Additional Names : Grik3, Glutamate receptor ionotropic kainate 3, glutamate receptor 7, gluR7, excitatory amino acid receptor 5, eea5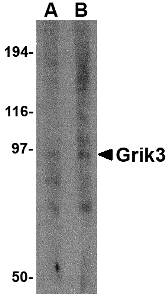 Description
Left: Western blot analysis of Grik3 in human brain tissue lysate with Grik3 antibody at (A) 1 and (B) 2 µg/ml.


Source :

Grik3 antibody was raised against a 13 amino acid
peptide
near the amino terminus of the human Grik3.
Purification :

Affinity chromatography purified via peptide column
Clonality and Clone :

This is a polyclonal
antibody
.
Host :

Grik3 antibody was raised in rabbit.
Please use anti-rabbit secondary antibodies.
Application :

Grik3 antibody can be used for detection of Grik3 by Western blot at 1 – 2 µg/ml.
Tested Application(s) :

E, WB
Buffer : Antibody is supplied in PBS containing 0.02% sodium azide.
Blocking Peptide :

Cat.No. 4389P - Grik3
Peptide
Long-Term Storage :

Grik3
antibody
can be stored at 4ºC, stable for one year. As with all antibodies care should be taken to avoid repeated freeze thaw cycles. Antibodies should not be exposed to prolonged high temperatures.
Positive Control :
1.

Cat. No. 1303 - Human Brain Tissue Lysate
Species Reactivity :

H, M, R
GI Number :

56205347
Accession Number :

CAI19119
Short Description :

Glutamate receptor 6
References
1.

Tanaka K. Functions of glutamate transports in the brain. Neurosci. Res. 2000; 37:15-9.
2.

Pinheiro P and Mulle C. Kainate receptors. Cell Tissue Res. 2006; 326:457-82.
3.

Puranam RS, Eubanks JH, Heinemann SF, et al. Chromosomal localization of gene for human glutamate receptor subunit-7. Somat. Cell Mol. Genet. 1993; 19:581-8.
4.

Pinheiro PS, Perrais D, Coussen F, et al. GluR7 is an essential subunit of presynaptic kainate autoreceptors at hippocampal mossy fiber synapses. Proc. Natl. Acad. Sci. USA 2007; 104:12181-6.