Catalog# :
4537
NIPSNAP is a member of an evolutionarily well conserved gene family and has a strong sequence similarity to the central portion of a protein encoded by C. elegans chromosome III between a 4-nitrophenylphosphatase (NIP) domain and non-neuronal SNAP25-like protein. Recent studies have indicated that NIPSNAP is involved in the regulation of the Ca2+-selective transient receptor potential vanilloid channel 6 (TRPV6). NIPSNAP1 associates with TRPV6 at the plasma membrane and inhibits TRPV6 currents. Other studies show that NIPSNAP's expression is reduced in the phenylketonuria (PKU) mouse brain, suggesting that NIPSNAP may play a role in memory.

Additional Names :
NIPSNAP (IN), Non-neuronal SNAP25-like protein, NIPSNAP1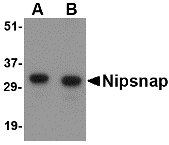 Description
Left:
Western blot analysis of NIPSNAP in human brain tissue lysate with NIPSNAP
antibody
at (A) 0.5 and (B) 1 µg/ml.
Below:
Immunohistochemical staining of human brain tissue using Nipsnap
antibody
at 2.5 µg/ml.
Other Product Images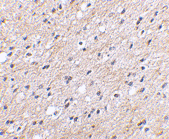 Source :
NIPSNAP
antibody
was raised against a 19 amino acid
peptide
from near the center of human NIPSNAP.
Purification :
Affinity chromatography purified via
peptide
column
Clonality and Clone
: This is a polyclonal antibody.
Host :
NIPSNAP antibody was raised in rabbit.
Please use anti-rabbit secondary antibodies
Application :
NIPSNAP
antibody
can be used for the detection of NIPSNAP by Western blot at 0.5 – 1 µg/ml.
Tested Application(s) :
E, WB, IHC
Buffer :
Antibody is supplied in PBS containing 0.02% sodium azide.
Blocking Peptide :
Cat.No. 4537P - NIPSNAP
Peptide
Long-Term Storage :
NIPSNAP antibody can be stored at 4ºC, stable for one year. As with all antibodies care should be taken to avoid repeated freeze thaw cycles. Antibodies should not be exposed to prolonged high temperatures.
Positive Control :
1.
Cat. No. 1303 - Human Brain Tissue Lysate
Species Reactivity : H, M, R
GI Number :
193211616
Accession Number :
NP_003625
Short Description :
(IN) Non-neuronal SNAP25-like protein
References
1.
Seroussi E, Pan H-Q, Kedra D, et al. Characterization of the human NIPSNAP1 gene from 22q12: a member of a novel gene family. Gene 1998; 212:13-20.
2.
Schoeber JP, Topala CN, Lee KP, et al. Identification of Nipsnap1 as a novel auxiliary protein inhibiting TRPV6 activity. Pflugers Arch. 2008; epub.
3.
Surendran S, Tyring SK and Matalon R. Expression of calpastatin, minopontin, NIPSNAP1, rabaptin-5 and neuronatin in the phenylketonuria (PKU) mouse brain: possible role on cognitive defect seen in PKU. Neurochem. Int. 2005; 46:595-9.