Catalog# :
4387
Glutamate receptors are the predominant excitatory neurotransmitter receptors in the mammalian brain and are activated in a variety of normal neurophysiologic processes. Grik2, also known as glutamate receptor 6, belongs to the kainate family of glutamate receptors, which are composed of four subunits and function as ligand-activated ion channels. Recent reports have suggested that defects in the Grik2 protein may be associated with autosomal recessive mental retardation and possibly other neurological disorders such as schizophrenia. Numerous isoforms of Grik2 are known to exist and may be subject to RNA editing within the second transmembrane domain, which is thought to alter the properties of ion flow. This Grik2 antibody may exhibit some cross-reactivity to Grik3.
Additional Names : Grik2 (C2), Glutamate receptor ionotropic kainate 2, glutamate receptor 6, gluR6, excitatory amino acid receptor 4, eea4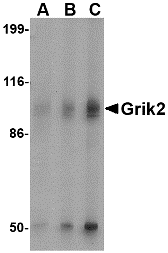 Description
Left:
Western blot analysis of Grik2 in human brain tissue lysate with Grik2
antibody
at (A) 0.5 and (B) 1 µg/ml.
Source :
Grik2
antibody
was raised against a 13 amino acid
peptide
near the carboxy terminus of the human Grik2.
Purification :
Affinity chromatography purified via
peptide
column
Clonality and Clone :
This is a polyclonal antibody.
Host :
Grik2 antibody was raised in rabbit.
Please use anti-rabbit secondary antibodies.
Application :
Grik2
antibody
can be used for detection of Grik2 by Western blot at 0.5 – 1 µg/ml.
Tested Application(s) :
E, WB
Buffer :
Antibody is supplied in PBS containing 0.02% sodium azide.
Blocking
Peptide
:
Cat.No. 4387P - Grik2 Peptide
Long-Term Storage :
Grik2 antibody can be stored at 4ºC, stable for one year. As with all antibodies care should be taken to avoid repeated freeze thaw cycles. Antibodies should not be exposed to prolonged high temperatures.
Positive Control :
1.
Cat. No. 1303 - Human Brain Tissue Lysate
Species Reactivity :
H, M, R
GI Number :
2492627
Accession Number :
Q13002
Short Description :
(C2) Glutamate receptor 6
References
1.
Tanaka K. Functions of glutamate transports in the brain. Neurosci. Res. 2000; 37:15-9.
2.
Pinheiro P and Mulle C. Kainate receptors. Cell Tissue Res. 2006; 326:457-82.
3.
Paschen W, Blackstone CD, Huganir RL, et al. Human GluR6 kainate receptor (GRIK2): molecular cloning, expression, polymorphism, and chromosomal assignment. Genomics 1994; 20:435-40.
4.
Motazacker MM, Rost BR, Hucho T, et al. A defect in the ionotrophic glutamate receptor 6 gene (GRIK2) is associated with autosomal recessive mental retardation. Am. J. Hum. Genet. 2007; 81:792-8.