Catalog# :
4105
Neurotrypsin is a central nervous system-expressed serine protease whose truncation or absence causes nonsyndromic mental retardation. It is most prominently expressed in structures that are involved in the processing and storage of learned behavior and memory, such as the cerebral cortex, the hippocampus, and amygdala. Evidence suggests that neurotrypsin has multiple functions, including axonal outgrowth, maintaining neuronal plasticity, and arranging the perineuronal environment, partly in coordination with other proteases including tissue plasminogen activator. At least two isoforms of neurotrypsin are known to exist.
Additional Names :
Neurotrypsin (NT), Motopsin, Protease serine 12, PRSS12, MRT1, BSSP3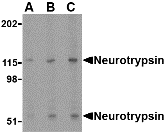 Description
Left: Western blot analysis of neurotrypsin in SK-N-SH cell lysate with neurotrypsin antibody at (A) 0.5, (B) 1 and (C) 2 µg/ml.

Below:Immunohistochemistry of Neurotrypsin in human brain tissue with Neurotrypsin antibody at 2.5 µg/ml.

Other Product Images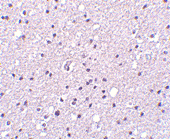 Source :

Neurotrypsin antibody was raised against a 23 amino acid peptide from near the amino terminus of human neurotrypsin.


Purification

: Affinity chromatography purified via peptide column


Clonality and Clone :

This is a polyclonal antibody.


Host :

Neurotrypsin antibody was raised in rabbit.
Please use anti-rabbit secondary antibodies.


Application :

Neurotrypsin antibody can be used for detection of neurotrypsin by Western blot at 0.5 – 1 µg/ml.


Tested Application(s) :

E, WB, IHC


Buffer :

Antibody is supplied in PBS containing 0.02% sodium azide.


Blocking Peptide :

Cat.No. 4105P - Neurotrypsin Peptide


Long-Term Storage :

Neurotrypsin antibody can be stored at 4ºC, stable for one year. As with all antibodies care should be taken to avoid repeated freeze thaw cycles. Antibodies should not be exposed to prolonged high temperatures.


Positive Control :




1.

Cat. No. 1220 - SK-N-SH Cell Lysate


Species Reactivity :

H, M, R


GI Number :

2661424


Accession Number :

CAA04816


Short Description :

(NT) a serine protease of the nervous system


References




1.

Gschwend TP, Krueger SR, Kozlov SV, et al. Neurotrypsin, a novel multidomain serine protease expressed in the nervous system. Mol. Cell. Neurosci. 1997; 9:207-19.


2

. Molinari F, Rio M, Meskanaite V, et al. Truncating neurotrypsin mutation in autosomal recessive nonsyndromic mental retardation. Science 2002; 1779-81.


3.

Mitsui S, Yamaguchi N, Osako Y, et al. Enzymatic properties and localization of motopsin (PRSS12), a protease who absence causes mental retardation. Brain Res. 2007; 1136:1-12.