VISA Antibody
Catalog# :4055
Two distinct signaling pathways activate the host innate immunity against viral infection. One pathway is reliant on members of the Toll-like receptor (TLR) family while the other uses the RNA helicase RIG-I as a receptor for intracellular viral double-stranded RNA as a trigger for the immune response. VISA is a mitochondrial membrane protein that was identified as a critical component in the IFN-b signaling pathways that recruits IRF-3 to RIG-I, leading to its activation and that of NF-kappaB. VISA is also thought to interact with other components of the innate immune pathway such as the TLR adapter protein TRIF, TRAF2 and TRAF6. VISA also interacts with the IKKalpha, IKKbeta and IKKepsilon kinases through its C-terminal region. Cleavage of this region by the Hepatitis C virus (HCV) protease allows HCV to escape the host immune system. At least three isoforms of VISA are known to exist.
Additional Names : VISA (IN), Virus-induced signaling adapter, mitochondrial antiviral signaling protein, MAVS, CARD adapter inducing interferon-beta, Cardif, IPS-1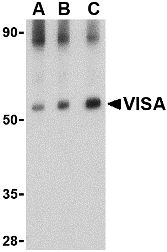 Description
Left:
Western blot analysis of VISA in rat brain tissue lysate with VISA antibody at (A) 0.5, (B) 1 and (C) 2 µg/ml.
Below:
Immunohistochemistry of VISA in mouse brain tissue with VISA antibody at 2.5 µg/ml.
Other Product Images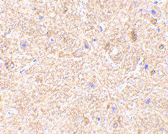 Source :VISA antibody was raised against a 17 amino acid peptide from near the center of human VISA.
Purification : Affinity chromatography purified via peptide column
Clonality and Clone : This is a polyclonal antibody.
Host : VISA antibody was raised in rabbit.
Please use anti-rabbit secondary antibodies.
Application : VISA antibody can be used for detection of VISA by Western blot at 0.5 – 1 µg/ml.
Tested Application(s) : E, WB, IHC
Buffer : Antibody is supplied in PBS containing 0.02% sodium azide.
Blocking Peptide :Cat.No. 4055P - VISA Peptide
Long-Term Storage : VISA antibody can be stored at 4ºC, stable for one year. As with all antibodies care should be taken to avoid repeated freeze thaw cycles. Antibodies should not be exposed to prolonged high temperatures.
Positive Control :
1. Cat. No. 1463 - Rat Brain Tissue Lysate
Species Reactivity : H, M, R
GI Number : 83776598
Accession Number : NP_065797
Short Description : (IN) Virus-induced signaling adapter
References
1. Seth RB, Sun L, and Chen ZJ. Antiviral innate immunity pathways. Cell Res. 2006; 16:141-7.
2. Xu LG, Wang YY, Han KJ, et al. VISA is an adapter protein required for virus-triggered IFN-beta signaling. Mol. Cell 2005; 19:727-40.
3. Meylan E, Curran J, Hofman K, et al. Cardif is an adaptor protein in the RIG-I antiviral pathway and is targeted by hepatitis C virus. Nature 2005; 1167-72.