LRFN3 Antibody
Catalog# :5069
LRFN3 is one of a family of five transmembrane glycoproteins that are highly expressed in neuronal tissues. LRFN proteins share leucine-rich repeat (LRR)-immunoglobulin-like (Ig)-fibronectin type III (Fn)-transmembrane domain structure with other members of the LRR-Ig-Fn protein superfamily such as the Slitrk family of proteins. Expression of LRFN1, -3, and -4 mRNA was detected in embryonic neuronal cells, while Lrfn2 and Lrfn5 expression was primarily restricted to more mature cells. LRFN1, -2, and -4 bound to PDZ domains of postsynaptic PSD95, re-distributing PSD95 to the cell periphery. It has been suggested that the Lrfn proteins play a role in the developing and/or mature vertebrate nervous system. This antibody is predicted to not cross-react with other members of the LRFN family.
Additional Names : LRFN3, Leucine-rich repeat and fibronectin type III domain-containing protein 3, synaptic adhesion-like molecule 4, SALM4, FIGLER1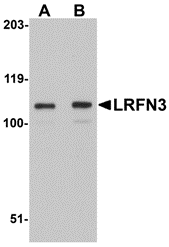 Description
Left:
Western blot analysis of LRFN3 in K562 lysate with LRFN3 antibody at (A) 1 and (B) 2 µg/ml.
Below:
Immunohistochemistry of LRFN3 in mouse brain tissue with LRFN3 antibody at 2.5 µg/ml.
Other Product Images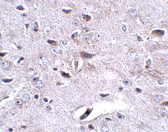 Source :LRFN3 antibody was raised against a 16 amino acid peptide near the center of human LRFN3.
Purification : Affinity chromatography purified via peptide column
Clonality and Clone : This is a polyclonal antibody.
Host : LRFN3 antibody was raised in rabbit.
Please use anti-rabbit secondary antibodies.
Application : LRFN3 antibody can be used for detection of LRFN3 by Western blot at 1 – 2 µg/ml.
Tested Application(s) : E, WB, IHC
Buffer : Antibody is supplied in PBS containing 0.02% sodium azide.
Blocking Peptide :Cat.No. 5069P - LRFN3 Peptide
Long-Term Storage : LRFN3 antibody can be stored at 4ºC, stable for one year. As with all antibodies care should be taken to avoid repeated freeze thaw cycles. Antibodies should not be exposed to prolonged high temperatures.
Positive Control :
1. Cat. No. 1204 - K562 Cell Lysate
Species Reactivity : H, M, R
GI Number : 13375646
Accession Number : NP_078785
Short Description : Leucine-rich repeat and fibronectin type III domain-containing protein 5
References
1. Morimura N, Inoue T, Katayama K, et al. Comparative analysis of structure, expression and PSD95-binding capacity of Lrfn, a novel family of neuronal transmembrane proteins. Gene 2006; 380:72-83.
2. Kobe B and Kajava AV. The leucine-rich repeat as a protein recognition motif. Curr. Opin. Struct. Biol. 2001; 11:725-32.
3. Aruga J and Mikoshiba K. Identification and characterization of Slitrk, a novel transmembrane protein family controlling neurite outgrowth. Mol. Cell Neurosci. 2003; 24:117-29.