Catalog# :
4561
CAPS1 and its related protein CAPS2 encode novel neural/endocrine-specific cytosolic and peripheral membrane proteins. Both are essential components of the synaptic vesicle priming machinery and are required for the Ca2+-regulated exocytosis of secretory vesicles; CAPS-deficienct neurons contain no or very few fusion competent synaptic vesicles, causing a selective impairment of fast phasic transmitter release. CAPS1 acts at a stage in exocytosis that follows ATP-dependent priming, which involves the essential synthesis of phosphatidylinositol 4,5-bisphosphate and is thought to be a specific regulator of large dense-core vesicle fusion. Numerous isoforms of CAPS1 are known to exist. This CAPS1
antibody
is predicted to be specific to CAPS1 and not recognize CAPS2.
Additional Names : CAPS1 (NT), Calcium-dependent secretion activator 1, CADPS1, CAPS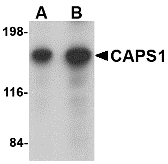 Description
Left:
Western blot analysis of CAPS1 in rat brain tissue lysate with CAPS1
antibody
at (A) 0.25 and (B) 0.5 µg/ml.
Below:
Immunohistochemistry of CAPS1 in human brain with CAPS1 antibody at 5 µg/ml.
Other Product Images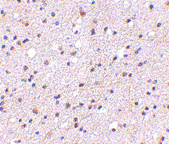 Source
:CAPS1
antibody
was raised against a 21 amino acid peptide near the amino terminus of the human CAPS1.
Purification
: Affinity chromatography purified via
peptide
column
Clonality and Clone
: This is a polyclonal antibody.
Host
: CAPS1 antibody was raised in rabbit.
Please use anti-rabbit secondary antibodies.
Application
: CAPS1 antibody can be used for detection of CAPS1 by Western blot at 0.25 – 0.5 µg/ml.
Tested Application(s)
: E, WB, IHC
Buffer
: Antibody is supplied in PBS containing 0.02% sodium azide.
Blocking Peptide :
Cat.No. 4561P - CAPS1
Peptide
Long-Term Storage :
CAPS1 antibody can be stored at 4ºC, stable for one year. As with all antibodies care should be taken to avoid repeated freeze thaw cycles. Antibodies should not be exposed to prolonged high temperatures.
Positive Control :
1.
Cat. No. 1463 - Rat Brain Tissue Lysate
Species Reactivity :
H, M, R
GI Number :
34452713
Accession Number :
NP_899631
Short Description :
(NT) Calcium-dependent secretion activator 1
References
1.
Walent JH, Porter BW, and Martin TF. A novel 145 kD brain cytosolic protein reconstitutes Ca(2+)-regulated secretion in permeable neuroendocrine cells. Cell 1992; 70:765-775.
2.
Juckusch WJ, Speidel D, Sigler A, et al. CAPS-1 and CAPS-2 are essential synaptic vesicle priming proteins. Cell 2007; 131:796-808.
3.
Rupnick M, Kreft M, Sikdat SK, et al. Rapid regulated dense-core vesicle exocytosis requires the CAPS protein. Proc. Natl. Acad. Sci. USA 2000; 97:5627-32.