Catalog#
:4349
MANF, also known as ARMET, was initially identified as a protein containing an arginine-rich region that was highly mutated in a variety of tumors. More recently it was identified as a mesencephalic astrocyte-derived neurotrophic factor with selectivity for dopaminergic neurons, similar to glial cell line-derived neurotrophic factor (GDNF) and CDNF. In rat brain slices, MANF enhanced nigral gamma-aminobutyric acid release. Like GDNF and CDNF, MANF has selective neuroprotective activity for dopaminergic neurons suggesting that it may be indicated for the treatment of Parkinson's disease. Expression of MANF has also been shown to be induced during ER stress, suggesting that it may play a role in protein quality control during ER stress. This
antibody
does not cross-react with CDNF.
Description
Left:
Western blot analysis of MANF in rat brain tissue lysate with MANF antibody at (A) 1 and (B) 2 µg/ml.
Below:
Immunohistochemistry of MANF in human brain tissue with MANF
antibody
at 2.5 µg/ml.







Other Product Images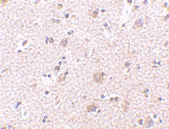 Source :
MANF antibody was raised against a 12 amino acid
peptide
from near the amino terminus of human MANF.
Purification :
Affinity chromatography purified via peptide column
Clonality and Clone :
This is a polyclonal
antibody
.
Host :
MANF antibody was raised in rabbit.
Please use anti-rabbit secondary antibodies.
Application :
MANF antibody can be used for detection of MANF by Western blot at 1 – 2 µg/ml.
Tested Application(s) :
E, WB, IHC
Buffer :
Antibody is supplied in PBS containing 0.02% sodium azide.
Blocking Peptide :Cat.No. 4349P - MANF
Peptide
Long-Term Storage :
MANF antibody can be stored at 4ºC, stable for one year. As with all antibodies care should be taken to avoid repeated freeze thaw cycles. Antibodies should not be exposed to prolonged high temperatures.
Positive Control :
1. Cat.
No. 1463 - Rat Brain Tissue Lysate
Species Reactivity :
H, M, R
GI Number :
23503040
Accession Number
: P55145
Short Description :
(NT) Mesencephalic astrocyte-derived neurotrophic factor
References
1.
Shridhar V, Rivard S, Shridhar R, et al. A gene from human chromosomal band 3p21.1 encodes a highly conserved arginine-rich protein and is mutated in renal cell carcinomas. Oncogene 1996; 12:1931-9.
2.
Shridhar R, Shridhar V, Rivard S, et al. Mutations in the arginine-rich protein gene, in lung, breast, and prostate cancers, and in squamous cell carcinoma of the head and neck. Cancer Res. 1996; 56:5576-8.
3.
Petrova P, Raibekas A, Pevsner J, et al. MANF: a new mesencephalic, astrocyte-derived neurotrophic factor with selectivity for dopaminergic neurons. J. Mol. Neurosci. 2003; 20:173-88.
4.
Lindholm P, Voutilainen MH, Lauren J, et al. Novel neurotrophic factor CDNF protects and rescues midbrain dopamine neurons in vivo. Nature 2007; 448:73-7.