Catalog#
:4287
Lissencephaly is a severe brain developmental disease characterized by the mislocalization of cortical neurons, a smooth cerebral surface, mental retardation, and seizures. Classical lissencephaly is caused by sporadic mutations in the LIS1 gene. While LIS1 is known to act in a pathway deactivating the lipid messenger platelet-activating factor, LIS1 forms a complex with Nudel and 14-3-3e which is then transported from neuronal cell bodies through the actions of DISC1 and KIF5A, a microtubule-dependent directed motor protein kinesin. Decreased expression of LIS1 blocked neural stem cell division, morphogenesis, and motility, suggesting that LIS1 plays an important role in neuronal cell proliferation and localization in the developing brain. At least two isoforms of LIS1 are known to exist.
Additional Names : LIS1, Lissencephaly 1, platelet-activating factor acetylhydrolase, PAFAH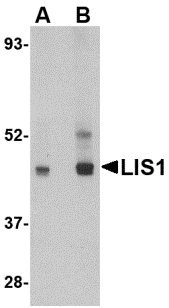 Description
Left: Western blot analysis of LIS1 in HeLa cell lysate with LIS1 antibody at (A) 0.5 and (B) 1 µg/ml.

Below: Immunocytochemistry of LIS1 in Jurkat cells with LIS1 antibody at 2.5 µg/ml.






Other Product Images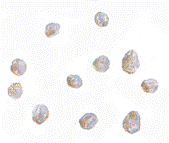 Source :

LIS1 antibody was raised against a 14 amino acid peptide from near the carboxy terminus of human LIS1.


Purification :

Affinity chromatography purified via peptide column


Clonality and Clone :

This is a polyclonal antibody.


Host :

LIS1 antibody was raised in rabbit.
Please use anti-rabbit secondary antibodies.


Application :

LIS1 antibody can be used for detection of LIS1 by Western blot at 0.5 – 1 µg/ml.


Tested Application(s) :

E, WB, ICC


Buffer :

Antibody is supplied in PBS containing 0.02% sodium azide.


Blocking

Peptide

:

Cat.No. 4287P - LIS1 Peptide


Long-Term Storage :

LIS1 antibody can be stored at 4ºC, stable for one year. As with all antibodies care should be taken to avoid repeated freeze thaw cycles. Antibodies should not be exposed to prolonged high temperatures.


Positive Control :




1. Cat

. No. 1201 - HeLa Cell Lysate


Species Reactivity :

H, M, R


GI Number :

1170794


Accession Number :

P43034


Short Description :

Lissencephaly 1


References




1

. McManus MF and Golden JA. Neuronal migration in developmental disorders. J. Child Neurol. 2005; 20:280-6.


2.

Reiner O, Carrozzo R, Shen Y, et al. Isolation of a Miller-Dieker lissencephaly gene containing G protein b-subunit-like repeats. Nature 1993; 364:717-21.


3.

Hattori M, Adachi H, Tsujimoto M, et al. Miller-Dieker lissencephaly gene encodes a subunit of brain platelet activating factor. Nature 1994; 370:216-8.


4.

Taya S, Shinoda T, Tsuboi D, et al. DISC1 regulates the transport of the NUDEL/LIS1/14-3-3e complex through kinesin-1. J. Neurosci. 2007; 27:15-26.