Catalog# :

3856
Clusterin, also known as Apolipoprotein J (ApoJ), is a ubiquitous multifunctional glycoprotein that can interact with a broad spectrum of molecules such as complement components, various receptors, and the Alzheimer's b-amyloid
peptide
(1). Clusterin expression is increased in Alzheimer's disease brain tissue and clusterin-immunoreactive amyloid plaques are found associated with phospho-tau-positive dystrophic neurites (2) and it has been suggested that clusterin facilitates the conversion of diffuse b-amyloid deposits into amyloid and enhances tau phosphorylation in neurites around these plaques. Other reports show that clusterin expression is decreased in proliferating cells and is upregulated in quiescent and senescent cells, suggesting that it may also play a role in aging and tumorigenesis suppression (3). Clusterin exists in at least two distinct isoforms.
Description
Left:
Western blot analysis of Clusterin in human brain tissue lysate with Clusterin body at (A) 0.5 and (B) 1 µg/ml.
Below:
Immunohistochemistry of Clusterin in human brain tissue with Clusterin
antibody
at 10 µg/ml.

Other Product Images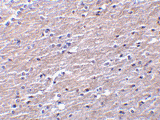 Source :
Clusterin
antibody
was raised recombinant human Clusterin isoform 1.
Purification :
Affinity chromatography purified via
peptide
column
Clonality and Clone :
This is a polyclonal antibody.
Host :
Clusterin antibody was raised in rabbit.
Please use anti-rabbit secondary antibodies.
Immunogen :
Recombinant human Clusterin isoform 1
Application :
Clusterin antibody can be used for the detection of Clusterin by Western blot at 0.5 – 1 µg/ml.
Tested Application(s) :
E, WB, IHC
Buffer :
Antibody is supplied in PBS containing 0.02% sodium azide.
Blocking Peptide :
Cat.No. 3856P - Clusterin
Peptide
Long-Term Storage :
Clusterin
antibody
can be stored at 4ºC, stable for one year. As with all antibodies care should be taken to avoid repeated freeze thaw cycles. Antibodies should not be exposed to prolonged high temperatures.
Positive Control :
1.
Cat. No. 1303 - Human Brain Tissue Lysate
Species Reactivity :
H
GI Number :
42716297
Accession Number :
NP_001822
Short Description :
Apolipoprotein J
References
1.
Calero M, Rostagno A, Frangione B, et al. Clusterin and Alzheimer's disease. Subcell. Biochem. 2005; 38:273-98.
2.
Martin-Rehrmann MD, Hoe HS, Capuani EM, et al. Association of apolipoprotein J-positive beta-amyloid plaques with dystrophic neurites in Alzheimer's disease brain. Neurotox. Res. 2005; 7:231-42.
3.
Trougakos IP and Gonos ES. Clusterin/Apolipoprotein J in human aging and cancer. Int. J. Biochem. Cell Biol. 2002; 34:1430-48.
4.
Martinon F and Tschopp J. NLRs join TLRs as innate sensors of pathogens. TRENDS Imm. 2005; 26:447-54.