Catalog# :

4255



The tachykinins are a family of small peptides that include the neurotransmitters substance P, neurokinin A, and neurokinin B, which can act on three related but distinct seven transmembrane G-proteins coupled receptors, albeit at different concentrations. The NK-3 receptor (NK3R) has greatest affinity for neurokinin B and is highly expressed in the supraoptic and paraventricular nuclei. Following binding of its ligand, NK3R activates a phosphatidylinositol-calcium second messenger system. It is likely these signals lead to the release of vasopressin and oxytocin into the circulation. NK3R may be involved in learning and memory as mice lacking this gene expressed cognitive deficits compared to normal mice. Although it has been suggested that NK3R plays a role in the regulation of vagal afferent relay neurons, it is likely that these receptors are activated by substance P or neurokinin A, as the airway nerves do not express neurokinin B. NK3R antibody does not recognize NK1R or NK2R.


Additional Names : NK3R (IN), Neurokinin B receptor, NK-3 receptor, NK-3R, Tachykinin receptor 3, TACR3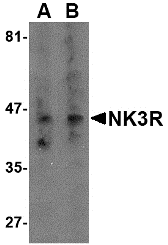 Description
Left:Western blot analysis of NK3R in RAW264.7 cell lysate with NK3R antibody at (A) 0.5 and (B) 2 µg/ml.

Below:Immunohistochemistry of NK3R in human brain tissue with NK3R antibody at 5 µg/ml.



Other Product Images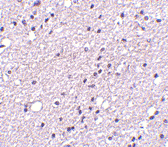 Source :NK3R antibody was raised against a 18 amino acid peptide from near the center of human NK3R.
Purification : Affinity chromatography purified via peptide column
Clonality and Clone : This is a polyclonal antibody.
Host : NK3R antibody was raised in rabbit.
Please use anti-rabbit secondary antibodies.
Application : NK3R antibody can be used for detection of NK3R by Western blot at 0.5 – 1 µg/ml.
Tested Application(s) : E, WB, IHC
Buffer : Antibody is supplied in PBS containing 0.02% sodium azide.
Blocking Peptide :Cat.No. 4255P - NK3R Peptide
Long-Term Storage : NK3R antibody can be stored at 4ºC, stable for one year. As with all antibodies care should be taken to avoid repeated freeze thaw cycles. Antibodies should not be exposed to prolonged high temperatures.
Positive Control :
1. Cat. No. 1283 - RAW264.7 Cell Lysate
2. Cat. No. 1303 - Human Brain Tissue Lysate
Species Reactivity : H, M
GI Number : 128364
Accession Number : P29371
Short Description : (IN) Neurokinin B receptor
References
1. Maggi CA. The mammalian tachykinin receptors. Gen. Pharmacol. 1995; 26:911-44.
2. Ding Y-Q, Shi J, Su L-Y, et al. Receptor (NK3)-containing neurons in the paraventricular and supraoptic nuclei of the rat hypothalamus synthesize vasopressin and express fos following intravenous injection of hypotonic saline. Neurosci. 1999; 91:1077-85.
3. Nakajima Y, Tsuchida K, Negishi M, et al. Direct linkage of three tachykinin receptors to stimulation of both phosphatidylinositol hydrolysis and cyclic AMP cascades in transfected Chinese hamster ovary cells. J. Biol. Chem. 1992; 267:2437-42.
4. Haley GE and Flynn FW. Tachykinin NK3 receptor contribution to systemic release of vasopressin and oxytocin in response to osmotic and hypotensive challenge. Am. J. Regul. Integr. Comp. Physiol. 2007; 293:R931-7.