Catalog# :
4085
BRSK2 was initially identified through a computer screen of the human genome and shows significant homology to the C. elegans neuronal cell polarity regulator SAD1. BRSK2 is expressed in the brain and to a lesser extent in the testes. BRSK2 is a member of the AMP-activated protein kinase subfamily and can be activated by the tumor suppressor kinase LKB1. More recently, it has been shown that both BRSK2 and the related protein BRSK1 are required for mammalian neuronal polarization. While BRSK1- and BRSK2-null mice were viable, double-mutant mice died within two hours of birth. Neurons from these mice showed uniformly-sized neurites as opposed to the normal long axon and multiple shorter dendrites. These neurites also displayed both axonal and dendritic markers. BRSK2 has also been shown to be an autoantigen in paraneoplastic limbic encephalitis. At least four isoforms of BRSK2 are known to exist.
Additional Names : BRSK2, BR serine-threonine kinase 2, serine-threonine protein kinase 29, STK29 PEN11B, SAD1B kinase, SAD-A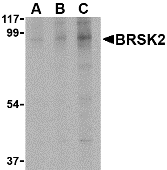 Description
Left: Western blot analysis of BRSK2 in human brain tissue lysate with BRSK2 antibody at (A) 0.5, (B) 1 and (C) 2 µg/ml.

Below:Immunohistochemistry of BRSK2 in human brain tissue with BRSK2 antibody at 5 µg/ml.

Other Product Images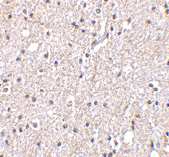 Source

:BRSK2 antibody was raised against a 23 amino acid peptide from near the carboxy terminus of human BRSK2.


Purification

: Affinity chromatography purified via peptide column


Clonality and Clone

: This is a polyclonal antibody.


Host

: BRSK2 antibody was raised in rabbit.
Please use anti-rabbit secondary antibodies.


Application

: BRSK2 antibody can be used for detection of BRSK2 by Western blot at 1 – 2 µg/ml.


Tested Application(s)

: E, WB, IHC
Buffer : Antibody is supplied in PBS containing 0.02% sodium azide.


Blocking Peptide

:Cat.No. 4085P - BRSK2 Peptide


Long-Term Storage

: BRSK2 antibody can be stored at 4ºC, stable for one year. As with all antibodies care should be taken to avoid repeated freeze thaw cycles. Antibodies should not be exposed to prolonged high temperatures.


Positive Control

:


1

.Cat. No. 1303 - Human Brain Tissue Lysate


Species Reactivity

: H, M


GI Number :

116241272


Accession Number

: Q8IWQ3


Short Description

: BR serine-threonine kinase 2


References




1.

Manning G, Whyte DB, Martinez R, et al. The protein kinase complement of the human genome. Science 2002; 298:1912-34.


2.

Lizcano JM, Goransson O, Toth R, et al. LKB1 is a master kinase that activates 13 kinases of the AMPK subfamily, including MARK/PAR-1. EMBO J. 2004; 23:833-43.


3.

Kishi M, Pan YA, Crump J, et al. Mammalian SAD kinases are required for neuronal polarization. Science 2005; 307:929-32.


4.

Sabater L, Gomez-Choco M, Saiz A, et al. BR serine/threonine kinase 2: A new autoantigen in paraneoplastic limbic encephalitis. J. Neuroimmunol. 2005; 170:186-90.