Catalog# :

4289



The kinesin superfamily proteins (KIFs) are microtubule-dependent motors that slide along microtubules and transport cellular organelles and mRNA to different parts of the cell. In neurons, KIF5 performs this role in an anterograde fashion from the neuronal cell body to axonal or dendritic terminals. KIF5 was initially differentiated from the ubiquitously expressed kinesin as being highly enriched in subsets of neurons and selectively concentrated in the cell body. KIF5 has at least three known isoforms; this antibody recognizes all three. Mutations in one of the isoforms of KIF5 (KIF5A) are thought to be involved in hereditary spastic paraplegias.


Additional Names : KIF5 (CT), Kinesin heavy chain isoform 5, neuronal kinesin heavy chain, NKHC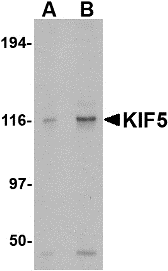 Description
Left: Western blot analysis of KIF5 in K562 cell lysate with KIF5 antibody at (A) 0.5 and (B) 1 µg/ml.

Below: Immunocytochemistry of KIF5 in K562 cells with KIF5 antibody at 5 µg/ml.




Other Product Images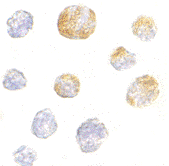 Source :

KIF5 antibody was raised against a 20 amino acid peptide from near the carboxy terminus of human KIF5.


Purification :

Affinity chromatography purified via peptide column


Clonality and Clone :

This is a polyclonal antibody.


Host :

KIF5 antibody was raised in rabbit.
Please use anti-rabbit secondary antibodies.


Application :

KIF5 antibody can be used for detection of KIF5 by Western blot at 0.5 – 1 µg/ml.


Tested Application(s) :

E, WB, ICC


Buffer :

Antibody is supplied in PBS containing 0.02% sodium azide.


Blocking Peptide :

Cat.No. 4289P - KIF5 Peptide


Long-Term Storage :

KIF5 antibody can be stored at 4ºC, stable for one year. As with all antibodies care should be taken to avoid repeated freeze thaw cycles. Antibodies should not be exposed to prolonged high temperatures.


Positive Control :




1.

Cat. No. 1204 - K562 Cell Lysate


Species Reactivity :

H, M, R


GI Number :

143811412


Accession Number :

Q12840


Short Description :

(CT) Kinesin heavy chain isoform 5


References




1.

Hirokawa N. mRNA transport in dendrites: RNA granules, motors and tracks. J. Neurosci. 2006; 26:7139-42.


2.

Niclas J, Navone F, Hom-Booher N, et al. Cloning and localization of a conventional KIF5 motor expressed exclusively in neurons. Neuron 1994; 12:1059-72.


3.

Fichera M, Lo Giudice M, Falco M, et al. Evidence of kinesin heavy chain (KIF5A) involvement in pure hereditary spastic paraplegia. Neurology 2004; 63:1108-10.