Catalog# :
4391
Grik4 codes for the KA1 subunit of kainate-type ionotropic glutamate receptors which are critical regulators of network activity that act by modifying neuronal excitability, directly and indirectly, through GABAergic interneurons. Five subunits can assemble to form kainate receptors (KARs): GluR5 (coded by Grik1), GluR6 (coded by Grik2), and GluR7 (coded by Grik3) are the low-affinity subunits, and KA1 and KA2 are the high-affinity subunits. In the adult brain, KARs are located pre- and postsynaptically on pyramidal cells and on interneurons. Kainate receptors on GABA-containing interneurons enhance GABA release and thereby downregulate glutamatergic signaling. KARs have been implicated in numerous psychiatric disorders. Case control studies show significant association of Grik4 with both schizophrenia and bipolar disorder. Despite its predicted molecular weight, Grik4 often migrates at a lower molecular weight in SDS-PAGE.
Additional Names : Grik4 (CT), Glutamate receptor ionotropic kainate 4 precursor, Glutamate receptor KA-1, Excitatory amino acid receptor 1, EEA1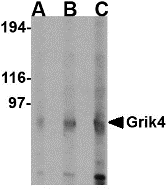 Description
Left:
Western blot analysis of Grik4 in rat brain lysate with Grik4
antibody
at (A) 0.5 (B) 1 and (C) 2 µg/ml.
Below:
Immunohistochemical staining of human brain tissue using Grik4 antibody at 2.5 µg/ml.
Other Product Images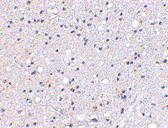 Source :
Grik4
antibody
was raised against a 19 amino acid
peptide
near the carboxy terminus of the human Grik4.
Purification :
Affinity chromatography purified via peptide column
Clonality and Clone :
This is a polyclonal antibody.
Host :
Grik4 antibody was raised in rabbit.
Please use anti-rabbit secondary antibodies.
Application :
Grik4 antibody can be used for detection of Grik4 by Western blot at 0.5 – 1 µg/ml.
Tested Application(s) :
E, WB, IHC
Buffer :
Antibody is supplied in PBS containing 0.02% sodium azide.
Blocking Peptide
:Cat.No. 4391P - Grik4
Peptide
Long-Term Storage :
Grik4
antibody
can be stored at 4ºC, stable for one year. As with all antibodies care should be taken to avoid repeated freeze thaw cycles. Antibodies should not be exposed to prolonged high temperatures.
Positive Control :
1.
Cat. No. 1463 - Rat Brain Tissue Lysate
Species Reactivity :
H, M, R
GI Number :
209572625
Accession Number :
Q16099
Short Description :
(CT) The KA1 subunit of kainate-type ionotropic glutamate receptors
References
1.
Tanaka K. Functions of glutamate transporters in the brain. Neurosci. Res. 2000; 37:15-9.
2.
Pinheiro P and Mulle C. Kainate receptors. Cell Tissue Res. 2006; 326:457-82.
3.
Mayer ML. GRIK4 and the Kainate Receptor. Am. J. Psychiatry 2007; 164:1148.
4.
Pickard BS, Malloy MP, Christoforou A, et al. Cytogenetic and genetic evidence supports a role for the kainate-type glutamate receptor gene, GRIK4, in schizophrenia and bipolar disorder. Mol. Psychiatry 2006; 11:847-57.