Catalog#
:5187
Claudin1 (CLDN1), a member of the claudin family, is an integral membrane protein and a component of tight junction strands. Tight junctions are specialized regions of cell to cell contact consisting of networking strands that act as a molecular gasket for preventing the leakage of ions, water, etc., between cells. They are abundant in luminal epithelial sheets where they maintain epithelial cell polarity. Different tissues exhibit different Claudin composition and CLDN1 expression is often cell type and tissue dependent. Loss of function mutations result in neonatal ichthyosis-sclerosing cholangitis syndrome. CLDN1 and CLDN2 were found to be overexpressed in colonal cancer tissues and may be useful as tumor markers and targets for the treatment of colorectal cancer. Characterization of Claudins expression in human tumors can be an additional diagnostic tool. Recent studies show that CLDN1 has gastric tumor suppressive activity and is a direct transcriptional target of RUNX3. Along with SCARB1, LDL-R, and the tetraspanin superfamily member CD81, CLDN1 has been reported to be an entry factor for the Hepatitis C virus.
Additional Names : CLDN1, Claudin 1, CLD1, SEMP1, ILVASC, CLDN1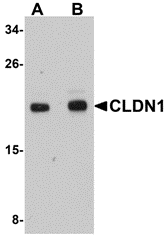 Description
Left:
Western blot analysis of CLDN1 in HepG2 cell lysate with CLDN1 antibody at (A) 1 and (B) 2 µg/ml.

Below:Immunocytochemistry of CLDN1 in HepG2 cells with CLDN1 antibody at 5 μg/ml.




Other Product Images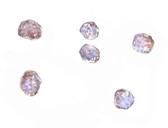 Source :

CLDN1 antibody was raised against a 20 amino acid peptide near the carboxyl terminus of human CLDN1.


Purification :

Affinity chromatography purified via peptide column


Clonality and Clone :

This is a polyclonal antibody.


Host :

CLDN1 antibody was raised in rabbit.
Please use anti-rabbit secondary antibodies.
Please use anti-rabbit secondary antibodies.


Application :

CLDN1 antibody can be used for detection of CLDN1 by Western blot at 1-2 µg/ml.


Tested Application(s) :

E, WB, ICC


Buffer :

Antibody is supplied in PBS containing 0.02% sodium azide.


Blocking Peptide :

Cat.No. 5187P - CLDN1 Peptide


Long-Term Storage :

CLDN1 antibody can be stored at 4ºC, stable for one year. As with all antibodies care should be taken to avoid repeated freeze thaw cycles. Antibodies should not be exposed to prolonged high temperatures.


Positive Control :




1. Cat.

No. 1211 - HepG2 Cell Lysate


Species Reactivity :

H, M, R


GI Number :

48146393


Accession Number :

CAG33419


Short Description :

a member of the claudin family


References




1.

Tepass U. Claudin complexities at the apical junctional complex. Nat. Cell Biol. 2003; 5:595-7.


2.

Kinugasa T, Huo Q, Higashi D, et al. Selective up-regulation of claudin-1 and claudin-2 in colorectal cancer. Anticancer Res. 2007; 27:3729-34.


3.

Paschoud S, Bongiovanni M, Pache JC, et al. Claudin-1 and claudin-5 expression patterns differentiate lung squamous cell carcinomas from adenocarcinomas. Mod. Pathol. 2007; 20:947-954.


4.

Morohashi S, Kasumi T, Sato F, et al. Decreased expression of claudin-1 correlates with recurrence status in breast cancer. Int. J. Mol. Med. 2007; 20:139-43.