Catalog# :
3009
Nudel was initially discovered as a protein homologous to Aspergillus NUDE and that associated with Lis1 and polyprotein complex cytoplasmic dynein, both of which have been linked to neuronal development and migration (1,2). It was later shown to be a substrate of cdk5, a kinase known to be critical during neuronal migration; phosphorylation of Nudel by cdk5 affects its localization in neurons and affects neuritic morphology (1,3). It is thought that together with Lis1, Nudel regulates cytoplasmic dynein, a large polyprotein complex, in neuronal migration and mitosis through direct interactions (4). Similar interactions are thought to also play a role in membrane traffic in other cells as disruption of Nudel expression through RNA interference perturbed normal endomembrane flux and resulted in the fragmentation of the Golgi apparatus (3).

Description
Left:
Western blot analysis of Nudel in Jurkat whole cell lysate with Nudel
antibody
at (A) 0.5, (B) 1, or (C) 2 µg/ml.
Below:
Immunocytochemistry of Nudel in Jurkat cells with Nudel antibody at 2 µg/ml.
Other Product Images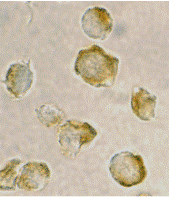 Source :
Nudel
antibody
was raised against a
peptide
corresponding to 15 amino acids near the amino terminus of human Nudel.
Purification :
Affinity chromatography purified via peptide column
Clonality and Clone :
This is a polyclonal
antibody
.
Host :
Nudel antibody was raised in rabbit.
Please use anti-rabbit secondary antibodies
Immunogen :
Human Nudel
Peptide
(Cat. No. 3009P)
Application :
Nudel
antibody
can be used for detection of Nudel by Western blot at 0.5 - 1 µg/ml.
Tested Application(s) :
E, WB, ICC
Buffer :
Antibody is supplied in PBS containing 0.02% sodium azide.
Blocking Peptide :
Cat. No. 3009P - Nudel
Peptide
Long-Term Storage :
Nudel antibody can be stored at 4ºC, stable for one year. As with all antibodies care should be taken to avoid repeated freeze thaw cycles. Antibodies should not be exposed to prolonged high temperatures.
Positive Control :
1.Cat. No. 1205 - Jurkat Cell Lysate
Species Reactivity :
H, M
GI Number :
12043569
Accession Number :
AAF97497
Short Description :
a protein involved in neuronal development
References
1
. Niethammer H, Smith DS, Ayala R, et al. NUDEL is a novel Cdk5 substrate that associates with LIS1 and cytoplasmic dynein. Neuron 2000; 28:697-711.
2.
Liu Z, Steward R, and Luo L. Drosophila Lis1 is required for neuroblast proliferation, dendritic elaboration and axonal transport. Nat. Cell Biol. 2000; 2:776-83.
3.
Gupta A and Tsai LH. Cyclin-dependent kinase 5 and neuronal migration in the neocortex. Neurosignals 2003; 12:173-9.
4.
Liang Y, Yu W, Li Y, et al. Nudel functions in membrane traffic mainly through association with Lis1 and cytoplasmic dynein. J. Cell Biol. 2004; 164:557-66.