SCRAPPER Antibody
Catalog# :4449
Members of the F-box protein family, such as Scrapper, are characterized by an approximately 40-amino acid F-box motif. SCF complexes, formed by SKP1, cullin, and F-box proteins, act as protein-ubiquitin ligases. Scrapper is selectively expressed in the brain, broadly expressed within the mouse CNS and is abundant at presynaptic membrane. Scrapper has orthologs in C. elegans, D. melanogaster, and mammals which suggests that it might function as an important membrane-localized E3 ligase in various species. Scrapper is a major presynaptic E3 ubiquitin ligase that acts through RIM1a via degradation and the ubiquitin-proteasome-system (UPS) pathway to critically regulate synaptic transmission. This identifies protein degradation as a mechanism for holding synaptic communication in check.
Additional Names : SCRAPPER (CT), F-box / Leucine rich repeat protein 20, FBXL20, FBl2, FBL20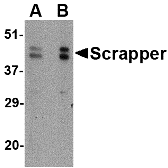 Description
Left:
Western blot analysis of SCRAPPER in A20 cell lysate with SCRAPPER antibody at (A) 0.5 and (B) 1 µg/ml.
Below:
Immunohistochemical staining of human brain tissue using Scrapper antibody at 2.5 µg/ml.
Other Product Images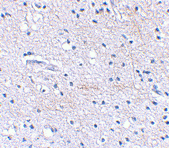 Source :SCRAPPER antibody was raised against a 18 amino acid peptide near the carboxy terminus of the human SCRAPPER.
Purification : Affinity chromatography purified via peptide column
Clonality and Clone : This is a polyclonal antibody.
Host : SCRAPPER antibody was raised in rabbit.
Please use anti-rabbit secondary antibodies.
Application : SCRAPPER antibody can be used for detection of SCRAPPER by Western blot at 0.5 – 1 µg/ml.
Tested Application(s) : E, WB, IHC
Buffer : Antibody is supplied in PBS containing 0.02% sodium azide.
Blocking Peptide :Cat.No. 4449P - SCRAPPER Peptide
Long-Term Storage : SCRAPPER antibody can be stored at 4ºC, stable for one year. As with all antibodies care should be taken to avoid repeated freeze thaw cycles. Antibodies should not be exposed to prolonged high temperatures.
Positive Control :
1. Cat. No. 1288 - A20 Cell Lysate
Species Reactivity : H, M, R
GI Number : 27734755
Accession Number : NP_116264
Short Description : (CT) F-box / Leucine rich repeat protein 20
References
1. Ho MS, Tsai PI, and Chien CT. F-box proteins: the key to protein degradation. J. Biomed. Sci. 2006; 13:181-91.
2. Dobie F and Craig AM. A fight for neurotransmission: SCRAPPER trashes RIM. Cell 2007; 130:775-7.
3. Yao I, Takagi H, Ageta H, et al. SCRAPPER-dependent ubiquitination of active zone protein RIM1 regulates synaptic vesicle release. Cell 2007; 130:943-57.
4. Ding M, Chao D, Wang G, et al. Spatial regulation of an E3 ubiquitin ligase directs selective synapse elimination. Science 2007; 317:947-51.