Catalog#
:4461
SLIT and NTRK-like family 3 (Slitrk3) is a member a protein family consisting of six homologous transmembrane proteins (Slitrk1-6) that share two conserved leucine-rich repeat domains in the extracellular domain and have significant homology to Slit, a secreted axonal growth-controlling protein. These proteins are also homologous to trk neurotrophin receptors in their intracellular domains. Expression of Slitrk proteins is highly restricted to neural and brain tumor tissues, but varies within the protein family. Like every other Slitrk protein except Slitrk1, overexpression of Slitrk3 inhibited neurite outgrowth in cultured neurons, suggesting that these proteins are involved in the control of neurite outgrowth. This
antibody
is predicted to have no cross-reactivity to other Slitrk proteins.
Additional Names : Slitrk3 (CT), SLIT and NTRK-like family 3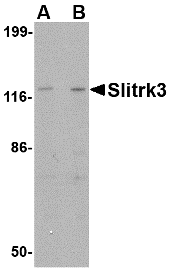 Description
Left:
Western blot analysis of Slitrk3 in SK-N-SH cell lysate with Slitrk3
antibody
at (A) 0.25 and (B) 0.5 µg/ml.
Below:
Immunohistochemistry of Slitrk3 in human brain tissue with Slitrk3
antibody
at 2.5 µg/ml




Other Product Images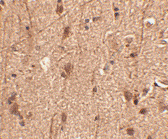 Source :
Slitrk3
antibody
was raised against a 14 amino acid
peptide
from near the carboxy terminus of human Slitrk3.
Purification :
Affinity chromatography purified via
peptide
column
Clonality and Clone :
This is a polyclonal antibody.
Host :
Slitrk3
antibody
was raised in rabbit.
Please use anti-rabbit secondary antibodies.
Application :
Slitrk2 antibody can be used for detection of Slitrk2 by Western blot at 1 – 2 µg/ml.
Tested Application(s) :
E, WB, IHC
Buffer :
Antibody is supplied in PBS containing 0.02% sodium azide.
Blocking Peptide :
Cat.No. 4461P - Slitrk3
Peptide
Long-Term Storage
: Slitrk3
antibody
can be stored at 4ºC, stable for one year. As with all antibodies care should be taken to avoid repeated freeze thaw cycles. Antibodies should not be exposed to prolonged high temperatures.
Positive Control :
1.
Cat. No. 1220 - SK-N-SH Cell Lysate
Species Reactivity :
H, M
GI Number :
215273885
Accession Number :
O94933
Short Description :
(CT) SLIT and NTRK-like family 3
References
1.
Aruga J and Mikoshiba K. Identification and characterization of Slitrk, a novel transmembrane protein family controlling neurite outgrowth. Mol. Cell Neurosci. 2003; 24:117-29.
2.
Aruga J, Yokota N, and Mikoshiba K. Human SLITRK family genes: genomic organization and expression profiling in normal and brain tumor tissue. Gene 2003; 315:87-94.