Catalog#
:4285
TDP43 was initially identified as a novel cellular protein that bound to HIV-1 virus TAR DNA sequence motifs and acts a transcriptional repressor to the HIV-1 LTR. Later experiments revealed that TDP43 also regulates the splicing of exon 9 of the cystic fibrosis transmembrane conductance regular (CFTR), most likely through the association with the UG repeats at the 3' splice site. A hyperphosphorylated, ubiquitinated, and cleaved form of TDP43 known as pathologic TDP43 is the major disease protein in ubiquitin-positive, tau-, and alpha-synuclein-negative frontotemporal dementia (FLTD-U). TDP43 is not related to TRBP1, and RNA binding protein that binds HIV-1 TAR RNA sequences. At least two isoforms are known to exist for this protein; this TDP43
antibody
only recongizes the longer of the two isoforms.
Additional Names : TDP43 (IN), TAR DNA binding protein, TARDBP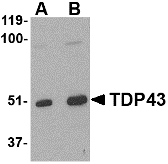 Description
Left:
Western blot analysis of TDP43 in L1210 cell lysate with TDP43 antibody at (A) 0.5, (B) 1 and (C) 2 µg/ml.
Below:
Immunocytochemistry of TDP43 in HeLa cells with TDP43
antibody
at 5 µg/ml.
Other Product Images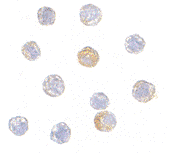 Source :
TDP43
antibody
was raised against a 18 amino acid
peptide
from near the center of human TDP43.
Purification
: Affinity chromatography purified via
peptide
column
Clonality and Clone :
This is a polyclonal
antibody
.
Host :
TDP43 antibody was raised in rabbit.
Please use anti-rabbit secondary antibodies.
Application :
TDP43
antibody
can be used for detection of TDP43 by Western blot at 0.5 – 1 µg/ml.
Tested Application(s) :
E, WB, ICC
Buffer :
Antibody is supplied in PBS containing 0.02% sodium azide.
Blocking Peptide :
Cat.No. 4285P - TDP43
Peptide
Long-Term Storage :
TDP43 antibody can be stored at 4ºC, stable for one year. As with all antibodies care should be taken to avoid repeated freeze thaw cycles. Antibodies should not be exposed to prolonged high temperatures.
Positive Control :
1.
Cat. No. 1284 - L1210 Cell Lysate
Species Reactivity :
H, M, R
GI Number :
130750552
Accession Number :
ABO32290
Short Description :
(IN) TAR DNA binding protein
References
1.
Ou SH, Wu F, Garcia-Martinez LF, et al. Cloning and characterization of a novel cellular protein, TDP-43, that binds to human immunodeficiency virus type 1 TAR DNA sequence motifs. J. Virol.1995; 69:3584-96.
2.
Buratti E, Dork T, Zuccato E, et al. Nuclear factor TDP-43 and SR proteins promote in vitro and in vivo CFTR exon 9 skipping. EMBO J. 2001; 20:1774-84.
3.
Neumann M, Sampathu DM, Kwong LK, et al. Ubiquitinated TDP-43 in frontotemporal lobar degeneration and amyotrophic lateral sclerosis. Science 2006; 314:42-3.