Catalog#
:3999
TMP21 is a ubiquitously expressed protein that is involved in vesicular targeting and protein transport. More recent experiments have shown that it is also a component in the presenilin complex and modulates the gamma-secretase but not theepsilonsecretase cleavage activity of the amyloid precursor protein. The presenilin complex is composed of the proteins APH1, nicastrin, and PEN2 in addition to presenilin-1. Together, these proteins cleave the amyloid precursor protein at what is known as the gamma and epsilon-sites and can lead to the accumulation of the Abeta cleavage product that is associated with Alzheimer's disease. Co-immunoprecipitation experiments using antibodies against these proteins also yielded TMP21 indicating that TMP21 may play a role in the regulation of this complex. Suppression of TMP21 expression by siRNA in transfected cells caused increased gamma-secretase activity but not epsilon-secretase activity, and increased Abeta production, demonstrating that TMP21 can modulate gammasecretase activity.
Additional Names : TMP21 (IN), Transmembrane emp24 domain-containing protein 10, TMED10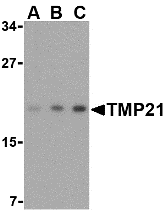 Description
Left
Western blot analysis of TMP21 in mouse brain tissue lysate with TMP21
antibody
at (A) 0.5, (B) 1 and (C) 2 µg/ml.
Below
Immunohistochemistry of TMP21 in human brain tissue with TMP21
antibody
at 5 µg/ml.


Other Product Images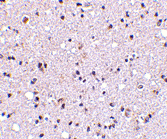 Source :
TMP21 antibody was raised against a 18 amino acid
peptide
from near the center of human TMP21.
Purification :
Affinity chromatography purified via peptide column
Clonality and Clone :
This is a polyclonal
antibody
.
Host :
TMP21
antibody
was raised in rabbit.
Please use anti-rabbit secondary antibodies.
Application :
TMP21 antibody can be used for detection of TMP21 by Western blot at 1 – 2 µg/ml.
Tested Application(s) :
E, WB, IHC
Buffer : Antibody is supplied in PBS containing 0.02% sodium azide.
Blocking Peptide :
Cat.No. 3999P - TMP21
Peptide
Long-Term Storage :
TMP21
antibody
can be stored at 4ºC, stable for one year. As with all antibodies care should be taken to avoid repeated freeze thaw cycles. Antibodies should not be exposed to prolonged high temperatures.
Positive Control :
1.
Cat. No. 1403 - Mouse Brain Tissue Lysate
2.
Cat. No. 1303 - Human Brain Tissue Lysate
Species Reactivity :
H, M, R
GI Number :
4885697
Accession Number :
AAD31941
Short Description :
(IN) a component of the presenilin complex
References
Blunt R, Feick P, Puype M, et al. Tmp21 and p24A, two type I proteins enriched in pancreatic microsomal membranes, are members of a protein family involved in vesicular trafficking. J. Biol. Chem. 1996; 271:17183-9.
Chen F, Hasegawa H, Schmitt-Ulms G, et al. TMP21 is a presenilin complex component that modulates -secretase but not gamma-secretase activity. Nature 2006; 440:1208-12.
Periz G and Fortini ME. Functional reconstitution of -secretase through coordinated expression of presenilin, nicastrin, aph-1, and pen-2. J. Neurosci. Res. 2004; 77:309-22.
Selkoe DJ. The cell biology of-amyloid precursor protein and presenilin in Alzheimer's disease. Trends Cell Biol. 1998; 8:447-53.