Catalog# :
5019
Programmed cell death 5 (PDCD5), a human apoptosis-related protein, is thought to play an early and universal role in apoptosis. PDCD5 is widely expressed and is upregulated in cells undergoing apoptosis, where it translocates rapidly from the cytoplasm to the nucleus. PDCD5 has a compact core structure of low flexibility with two mobile alpha-helices at N-terminal and a flexible unstructured C-terminal region. The charged residues are crucial for the ability of apoptosis-promoting and cell translocation of the protein. PDCD5 can facilitate apoptosis and enhance TAJ/TROY-induced paraptosis-like cell death. PDCD5 may play a dual role in the Tip60 pathway. It interacts with Tip60 and functions as a Tip60 co-activator to promote apoptosis (5). The nucleotide polymorphisms in the 5′-upstream region of PDCD5 affect promoter activity and the susceptibility of a Chinese population to develop chronic myelogenous leukemia and may represent a novel tumor suppressor gene influencing lung cancer.
Additional Names : PDCD5 (NT), Programmed cell death protein 5, TFAR19, MGC9294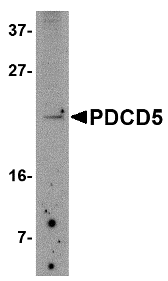 Description
Left: Western blot analysis of PDCD5 in Jurkat cell lysate with PDCD5 antibody at 2.5 µg/ml.

Below: Immunocytochemistry of PDCD5 in Jurkat cells with PDCD5 antibody at 5 μg/ml.






Other Product Images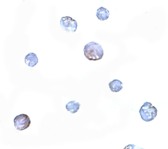 Source :
PDCD5
antibody
was raised against a 13 amino acid
peptide
from near the amino terminus of human PDCD5.
Purification :
Affinity chromatography purified via
peptide
column
Clonality and Clone :
This is a polyclonal
antibody
.
Host :
PDCD5 antibody was raised in rabbit.
Please use anti-rabbit secondary antibodies.
Application :
PDCD5
antibody
can be used for detection of PDCD5 by Western blot at 1 µg/ml.
Tested Application(s) :
E, WB, ICC
Buffer :
Antibody is supplied in PBS containing 0.02% sodium azide.
Blocking Peptide :
Cat.No. 5019P - PDCD5
Peptide
Long-Term Storage :
PDCD5 antibody can be stored at 4ºC, stable for one year. As with all antibodies care should be taken to avoid repeated freeze thaw cycles. Antibodies should not be exposed to prolonged high temperatures.
Positive Control :
1.
Cat. No. 1205 - Jurkat Cell Lysate
Species Reactivity :
H, M, R
GI Number :
115430252
Accession Number :
NP_037365
Short Description :
(NT) Programmed cell death protein 5
References
1.
Liu H, Wang Y, Zhang Y, et al. TFAR19, a novel apoptosis-related gene cloned from human leukemia cell line TF-1, could enhance apoptosis of some tumor cells induced by growth factor withdrawal. Biochem. Biophys. Res. Commun. 1999; 254:203–10.
2.
Chen Y, Sun R, Han W, et al. Nuclear translocation of PDCD5 (TFAR19): an early signal for apoptosis? FEBS Lett. 2001; 509:191–6.
3.
Yao H, Xu L, Feng Y, et al. Structure-function correlation of human programmed cell death 5 protein. Arch. Biochem. Biophys. 2009 Apr 7.
4.
Wang Y, Li X, Wang L, et al. An alternative form of paraptosis-like cell death triggered by TAJ/TROY and enhanced by PDCD5 overexpression. J. Cell Sci. 2004; 117:1525–32.