Catalog#
:4615
Upregulated obese product 11 (UROP11) was isolated from subtractive library for mouse hypothalamus. It is detected in numerous tissues and is upregulated in the hypothalamus and adipocytes in obese mice. UROP11 is also observed in human neural and lymphoid tissues; its expression appears to be regulated by the level of lymphoid activation. Urop11 expression is strongly upregulated both in vivo in mouse hypothalamus and in vitro in mouse neural cell lines after treatment with leptin, indicating Urop11 is a target of leptin activity and thus may play a role in obesity. Despite its predicted molecular weight, UROP11 often migrates at a much higher apparent size in SDS-PAGE.
Additional Names : UROP11, Upregulated obese product 11
Description
Left:
Western blot analysis of UROP11 in mouse spleen tissue lysate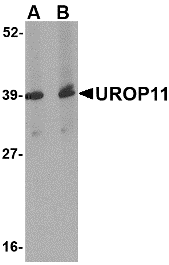 with UROP11
antibody
at (A) 1 and (B) 2 µg/ml.



Source :
UROP11
antibody
was raised against a 12 amino acid
peptide
near the center of the mouse UROP11.
Purification :
Affinity chromatography purified via
peptide
column
Clonality and Clone :
This is a polyclonal antibody.
Host :
UROP11
antibody
was raised in rabbit.
Please use anti-rabbit secondary antibodies
Application :
UROP11 antibody can be used for detection of UROP11 by Western blot at 1 – 2 µg/ml.
Tested Application(s) :
E, WB
Buffer :
Antibody is supplied in PBS containing 0.02% sodium azide.
Blocking Peptide :
Cat.No. 4615P - UROP11
Peptide
Long-Term Storage :
UROP11
antibody
can be stored at 4ºC, stable for one year. As with all antibodies care should be taken to avoid repeated freeze thaw cycles. Antibodies should not be exposed to prolonged high temperatures.
Positive Control :
1.
Cat. No. 1406 - Mouse Spleen Tissue Lysate
Species Reactivity :
H, M, R
GI Number :
30348608
Accession Number :
CAD90042
Short Description :
Upregulated obese product 11
References
1.
Verlaeten O, Casery C, Cavagna S, et al. Identification of Urop11, a novel leptin-modulated gene that is upregulated in the hypothalamus of mice with virus-induced obesity. J. Mol. Endocrinol. 2007; 38:3-17.