Catalog#
:4617
Syntaphilin was initially identified in a yeast two-hybrid screen with the carboxy terminal region of Syntaxin-1 as bait. Syntaxin-1 is a key component of the synaptic vesicle docking machinery that forms the SNARE complex with synaptobrevin and SNAP-25. Syntaphilin competes with SNAP-25 for binding to syntaxin-1 and inhibits the formation of the SNARE complex, thereby potentially regulating synaptic vesicle exocytosis. Syntaphilin also binds dynamin-1 and inhibits dynamin-dependent endocytosis. Mice lacking syntaphilin show an increased level of mitochondrial motility and a reduced density of axonal mitochondria. This correlates with an enhanced short-term facilitation and significant impairments in motor ability, suggesting syntaphilin plays a major role in presynaptic function. Despite its predicted molecular weight, Syntaphilin usually migrates at higher molecular weight in SDS-PAGE. Multiple isoforms are known to exist.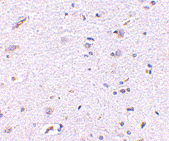 Source :
Syntaphilin
antibody
was raised against a 18 amino acid
peptide
from near the amino terminus of human Syntaphilin.
Purification :
Affinity chromatography purified via
peptide
column
Clonality and Clone :
This is a polyclonal
antibody
.
Host : Syntaphilin antibody was raised in rabbit.
Application :
Syntaphilin
antibody
can be used for detection of Syntaphilin by Western blot at 2 – 4 µg/ml.
Tested Application(s) :
E, WB, IHC
Buffer :
Antibody is supplied in PBS containing 0.02% sodium azide.
Blocking Peptide :
Cat.No. 4617P - Syntaphilin
Peptide
Long-Term Storage :
Syntaphilin
antibody
can be stored at 4ºC, stable for one year. As with all antibodies care should be taken to avoid repeated freeze thaw cycles. Antibodies should not be exposed to prolonged high temperatures.
Positive Control :
1.
Cat. No. 1303 - Human Brain Tissue Lysate
Species Reactivity :
H, M, R
GI Number : 2
1362912
Accession Number :
O15079
Short Description :
A protein in the SNARE complex
References
1.
Lao G, Scheuss V, Gerwin CM, et al. Syntaphilin: a syntaxin-1 clamp that controls SNARE assembly. Neuron 2000; 25:191-201.
2.
Sorensen JB. SNARE complexes prepare for membrane fusion. Trends Neurosci. 2005; 28:453-5.
3.
Das S, Gerwin C, and Sheng ZH. Syntaphilin binds to dynamin-1 and inhibits dynamin-dependent endocytosis. J. Biol. Chem. 2003; 278:41221-6.
4.
Kang J-S, Tian J-H, Pan P-Y, et al. Docking of axonal mitochondria by syntaphilin controls their mobility and affects short-term facilitation. Cell 2008; 132:137-148.