Rim3 Antibody
Catalog# :4471
Rab3-interacting molecules (RIMs) are synaptic proteins are synaptic proteins necessary for neural transmission and plasticity. While both Rim1 and Rim 2 are thought to be effector proteins for Rab3, binding to Rab3 on synaptic vesicles in a GTP-dependent manner, less is known of Rim3. Expression of Rim3 in PC12 cells induced a significant increase in calcium-triggered exocytosis, with no appreciable change in the baseline release, suggesting that it plays a role in the regulation of exocytosis. Rim3 protein localizes primarily to neuronal dendrites and the postsynaptic densities, as opposed to Rim1 which is found in presynapse locations, indicating that Rim3 may contribute to synapse transmission and plasticity. This antibody is predicted to have no cross-reactivity to other Rim proteins.
Additional Names : Rim3 (NT), Rab3-interacting molecule 3, regulating synaptic membrane exocytosis 3, RIM3 gamma, RIMS3, NIM3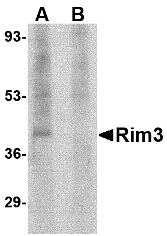 Description
Left: Western blot analysis of Rim3 in human brain tissue lysate with Rim3 antibody at 1 µg/ml in the (A) absence and (B) presence of blocking peptide.
Below:Immunohistochemistry of Rim3 in human brain tissue with Rim3 antibody at 2.5 µg/ml.
Other Product Images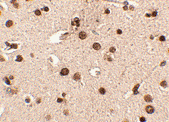 Source :Rim3 antibody was raised against a 17 amino acid peptide from near the amino terminus of human Rim3.
Purification : Affinity chromatography purified via peptide column
Clonality and Clone : This is a polyclonal antibody.
Host : Rim3 antibody was raised in rabbit.
Application : Rim3 antibody can be used for detection of Rim3 by Western blot at 0. 5 – 1 µg/ml.
Tested Application(s) : E, WB, IHC
Buffer : Antibody is supplied in PBS containing 0.02% sodium azide.
Blocking Peptide :Cat.No. 4471P - Rim3 Peptide
Long-Term Storage : Rim3 antibody can be stored at 4ºC, stable for one year. As with all antibodies care should be taken to avoid repeated freeze thaw cycles. Antibodies should not be exposed to prolonged high temperatures.
Positive Control :
1. Cat. No. 1303 - Human Brain Tissue Lysate
Species Reactivity : H, M
GI Number : 48476344
Accession Number : NP_055562
Short Description : (NT) Rab3-interacting molecule 3
References
1. Wang Y, Sugita S, and Sudhof TC. The RIM/NIM family of neuronal C2 domain proteins: interactions with Rab3 and a new class of Src homology 3 domain proteins. J. Biol. Chem. 2000; 275:20033-44.
2. Liang F, Zhang B, Tang J, et al. RIM3gamma is a postsynaptic protein in the rat central nervous system. J. Comp. Neurol. 2007; 503:501-10.