Catalog#
:5163
The low density lipoprotein receptor (LDL-R) gene family consists of cell surface proteins involved in receptor-mediated endocytosis of specific ligands. Low density lipoprotein (LDL) is normally bound at the cell membrane and taken into the cell ending up in lysosomes where the protein is degraded and the cholesterol is made available for repression of microsomal enzyme 3-hydroxy-3-methylglutaryl coenzyme A (HMG CoA) reductase, the rate-limiting step in cholesterol synthesis. At the same time, a reciprocal stimulation of cholesterol ester synthesis takes place. Mutations in the LDL-R gene cause the autosomal dominant disorder, familial hypercholesterolemia. Along with SCARB1, CLDN1, and the tetraspanin superfamily member CD81, LDL-R has been reported to be an entry factor for the Hepatitis C virus. At least three isoforms of LDL-R are known to exist.
Additional Names : LDL-R, Low density lipoprotein receptor, LDLR, FH, FHC, LDLCQ2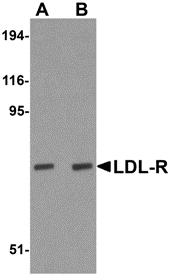 Description
Left:
Western blot analysis of LDL-R in human liver tissue lysate with LDL-R antibody at (A) 1 and (B) 2 µg/ml.

Below:Immunohistochemistry of LDL-R in human liver tissue with LDL-R antibody at 2.5 μg/ml.





Other Product Images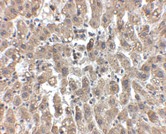 Source :

LDL-R antibody was raised against an 18 amino acid peptide near the center of human LDL-R.


Purification :

Affinity chromatography purified via peptide column


Clonality and Clone :

This is a polyclonal antibody.


Host :

LDL-R antibody was raised in chicken.
Please use anti-rabbit secondary antibodies.


Application :

LDL-R antibody can be used for detection of LDL-R by Western blot at 1 – 2 µg/ml.


Tested Application(s) :

E, WB, IHC


Buffer :

Antibody is supplied in PBS containing 0.02% sodium azide.


Blocking Peptide :

Cat.No. 5163P - LDL-R Peptide


Long-Term Storage :

LDL-R antibody can be stored at 4ºC, stable for one year. As with all antibodies care should be taken to avoid repeated freeze thaw cycles. Antibodies should not be exposed to prolonged high temperatures.


Positive Control :




1. Cat.

No. 1304 - Human Liver Tissue Lysate
Species Reactivity : H, M, R


GI Number :

4504975


Accession Number :

NP_000518


Short Description :

Low density lipoprotein receptor


References




1.

Li Y, Cam J, and Bu G. Low-density lipoprotein receptor family: endocytosis and signal transduction. Mol. Neurobiol. 2001; 23:53-67.


2.

Austin MA, Hutter CM, Zimmern RL, et al. Familial hypercholesterolemia and coronary heart disease: a HuGE association review. Am. J. Epidemiol. 2004; 160:421-9.


3.

Helle F and Dubuisson J. Hepatitis C virus entry into host cells. Cell Mol. Life Sci. 2008; 65:100-12.